Banks asked to raise core capital ratio
The move will beef up banks' risk resilience against unexpected losses: BB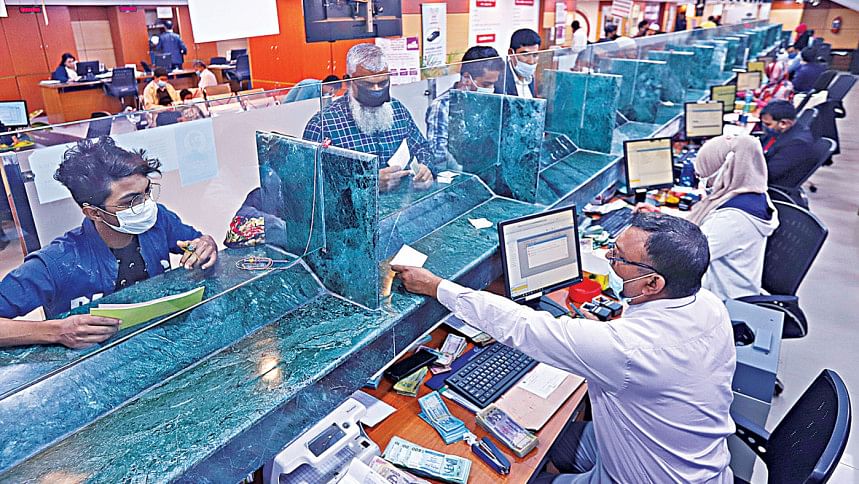 The central bank yesterday asked banks to raise their core capital ratio to 3.25 per cent in 2023 after they failed to put in place enough shareholders' equity and reserves in line with international standards to absorb unexpected shocks.
In 2014, the Bangladesh Bank issued the guidelines on risk-based capital adequacy for banks in line with the Basel III Accord, the primary banking regulation that sets the minimum tier 1 capital ratio requirement for financial institutions.
The BB ordered banks to maintain at least 3 per cent tier 1 capital, also known as the leverage ratio, by 2015 to strike a balance between capital and assets.
Tier 1 capital is used to describe a bank's capital adequacy and refers to core capital that includes equity capital and disclosed reserves.
It ensures that a bank has adequate capital reserves to absorb losses, thus promoting both transparency and financial discipline among banking institutions and protecting taxpayers from exposure to losses.
The leverage ratio is calculated by dividing the tier 1 capital by the total exposure.
Although the banking industry implemented Basel-III in 2019, the leverage ratio, alongside the risk-based capital adequacy ratio, has not increased proportionately, the BB said in a notice yesterday. 
The elevation of the leverage ratio to the expected level will help banks cut their import expenditures in foreign trade, it said.
This will bring about a qualitative increase to the capital base of banks, the notice said.
"As a result, it will beef up banks' risk resilience against unexpected losses and strengthen the stability of the financial sector."
Banks will get the entire 2022 to prepare to lift the leverage ratio. They will raise the ratio by 25 basis points every year until 2026 to reach 4 per cent.  
The current ratio is 3 per cent.
Ahsan H Mansur, executive director of the Policy Research Institute of Bangladesh, said banks with a lower capital base would find it challenging to meet the target.
So, the owners of the weak banks would either have to inject equity or banks have to retain earnings instead of distributing them among the shareholders in the form of dividends with a view to strengthening the core capital base, he said.
He said banks with a capital adequacy ratio (CAR) of 15 to 16 per cent would be able to meet the core capital goal.
Banks in Bangladesh maintained a (CAR) of 11.60 per cent last year, BB data showed.
This is way less than 18.6 per cent in Pakistan, 16.5 per cent in Sri Lanka, and 15.8 per cent in India.
The CAR, also known as the capital to risk-weighted assets ratio, measures a bank's financial strength by using its capital and assets.
Mansur said there were banks that did not fare well in 2020. But they still announced dividends.
"As a result, their core capital has not received any boost. If the core capital is not strengthened, banks will naturally remain weak," said the former official of the International Monetary Fund.
He called on the central bank to pay heed to enforce the guideline and beef up monitoring.
Syed Mahbubur Rahman, managing director of Mutual Trust Bank, said some banks might be expanding their assets, not in keeping with their capital. So, the central bank had moved to ensure banks' assets grew in line with their capital.
"This means you can't be overexposed, and your balance sheet should be strong."