Stocks drop to five-month low
Angry investors call for BSEC chief's resignation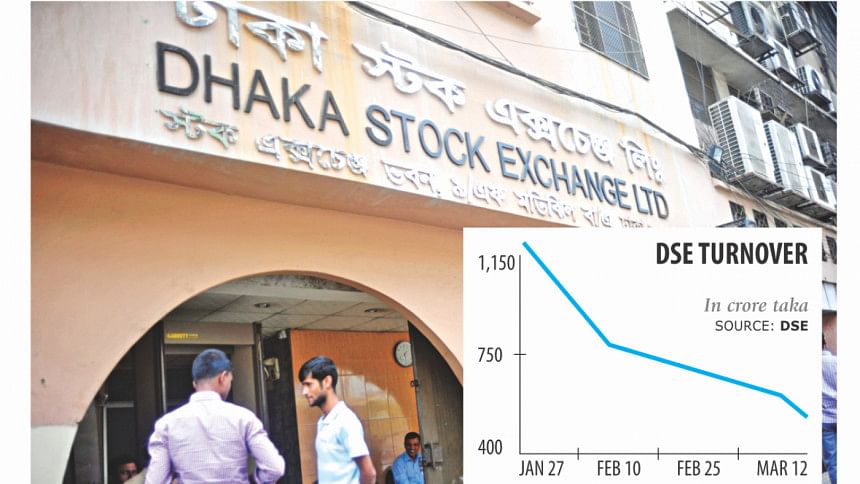 Dhaka stocks sank deeper into the red yesterday, hitting a five-month low and eliciting angry calls for resignation of the stock market watchdog's chief from anguished investors.
DSEX, the benchmark index of the Dhaka Stock Exchange, plummeted 60.55 points, or 1.14 percent, to finish the day at 5,249.
In the last one month, investors saw their shares' value erode by Tk 22,486 crore.
Desperate, investors demonstrated in front of the DSE office yesterday and demanded resignation of M Khairul Hossain, the longest-serving chairman of the Bangladesh Securities and Exchange Commission, within 48 hours.
Otherwise, they will go for tough movement.
In his eight-year-long tenure, Hossain failed to boost investor confidence and bring quality stocks to the market, they said.
"The chairman is working for the issuer companies and stock brokers, not for investors," said Ariful Islam, an agitating investor who has lost 40 percent of his money in just one month.
The BSEC has given approval to many companies to go public though those were not performing well, said Mizanur Rashid, another investor.
"These under quality stocks have impacted general investors' confidence. So, their participation in the market fell," Rashid said.
Investors urged the authorities to compel sponsors of companies whose stock prices have plunged below the issue price to buy back their shares. They also demanded 90 percent of net income as dividend if the companies do not go for further investment.
The main problem of the market now is liquidity pressure stemming from banks, said KAM Majedur Rahman, managing director of the DSE.
The interest rate of bank deposits is increasing in addition to the existing high returns on government's savings certificates.
"The Bangladesh Bank can take initiatives to tackle the issue and cool down the pressure," he added.
State-owned Investment Corporation of Bangladesh (ICB) has very limited scope to make fresh investment as its capital base is very low. "Time has come to increase its capital base so that it can support the market properly," he added.
Market analysts said the stock market has been impacted by the lower participation of institutional and foreign investors.
Turnover, one of the important indicators, also dropped 9.12 percent yesterday to Tk 269.91 crore, with 6.57 crore shares and mutual fund units changing hands on the DSE.
Of the traded issues, 59 advanced, 253 declined and 32 closed unchanged on the premier bourse.
Monno Ceramics dominated the turnover chart with its transaction of 6.24 lakh shares worth Tk 17.56 crore, followed by Fortune Shoes, Bangladesh Submarine Cable Company, Reckitt Benckiser and Square Pharmaceuticals.
Standard Ceramics was the day's best performer with its 9.98 percent gain, while Reckitt Benckiser was the worst loser, shedding 19.44 percent.
Chittagong stocks also closed low as CSCX declined 115.47 points, or 1.17 percent, to finish the day at 9,743.87.