Development spending slightly up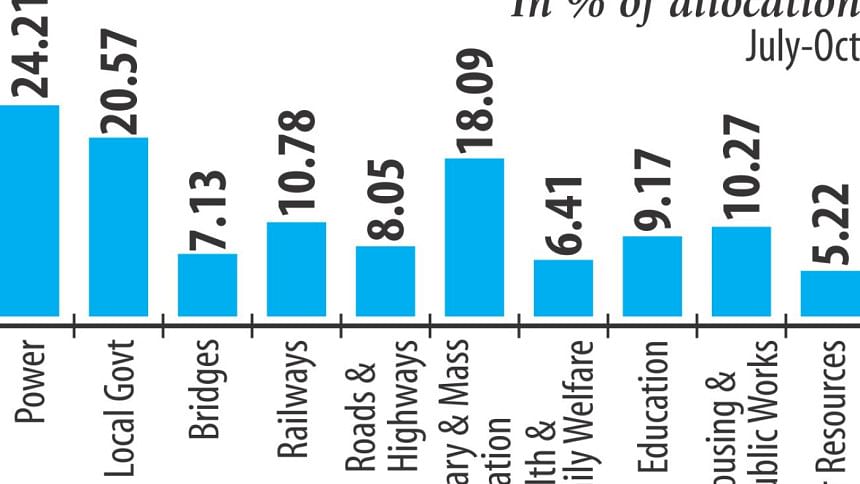 Development spending went up more than 2 percentage points to 13.6 percent in the first four months of fiscal 2016-17 from a year earlier but it is still lagging behind given the government's ambitious budget.
This year's annual development programme of Tk 123,346 crore is 50.9 percent larger than last year's, and has crossed the Tk 1 trillion ($12.7 billion) mark.
In terms of amount spent, the government's expenditure for July-October went up 44.64 percent year-on-year to Tk 16,772 crore, according to statistics from the Implementation, Monitoring & Evaluation Division of the planning ministry.
The government has recently taken a number of initiatives to accelerate ADP implementation, which has been languishing in the slow lane since fiscal 2012-13.
These include: the creation of a project preparatory fund to facilitate timely and effective implementation of development projects; appointing project director through direct interviews by ministries and divisions; assigning a dedicated official to each government agency for monitoring and evaluating projects and delisting longstanding 'non-operational' projects from the ADP.
The IMED regularly provides recommendations in its annual progress reports based on the challenges faced during the project cycle.
Some 10 large ministries and divisions -- namely the power, local government, bridges, railways, roads and highways, primary and mass education, health and family welfare education, housing and public works, and water resources -- got 73 percent of the allocation this year.
The power division spent 24.21 percent of its allocation, the local government division 20.57 percent and the primary education ministry 18.09 percent.
But the bridges division spent only 7.13 percent, the railways 10.78 percent, the roads division 8.05 percent, the health ministry 6.41 percent, the education ministry 9.17 percent, the public works ministry 10.27 percent and the water resources ministry 5.22 percent.
In July-October, the science and technology ministry spent 49.33 percent of its allocation, which is the highest among all ministries and divisions, followed by the disaster management and relief ministry at 36.61 percent.
The legislative and parliamentary affairs division spent 36.57 percent, the economic affairs division 32.37 percent, the internal resources division 27.33 percent, the law ministry 24.84 percent and the women and children's affairs ministry 24.50 percent.  The size of the ADP is large in relation to the government's ability to implement spending, said the World Bank.
As usual, implementation will remain a challenge, and based on past experiences, actual ADP utilisation may be 15 to 20 percent less than the budgeted amount, it added.