75pc women garment workers face verbal abuse: study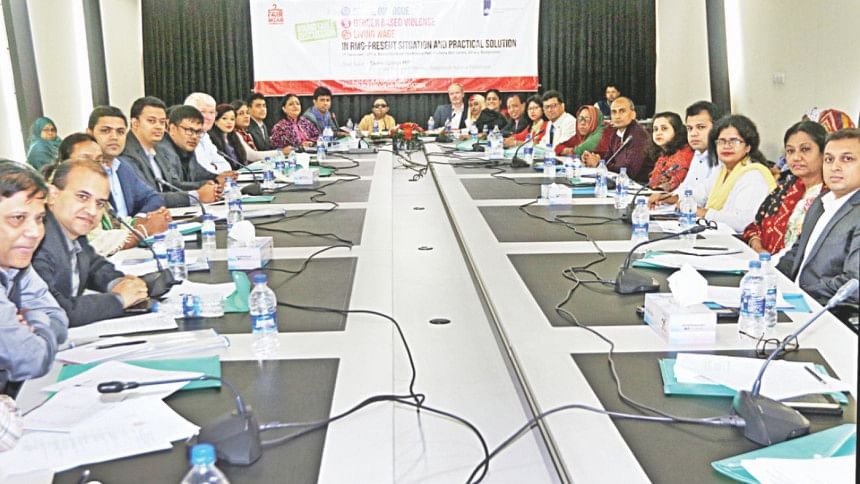 Three quarters of women garment workers in Bangladesh stated to have experienced verbal abuse while 20 percent physical abuse, reads a report on the prevalence of gender-based violence in the garment supply chain.
The sexual harassment and abuse, both physical and emotional, that women workers experience every day is endemic, says the report on "Gender-based violence among female garment workers in Gazipur, Bangladesh".  
This was revealed during a keynote speech by Runa Laila, a research fellow of Vrije Universiteit Amsterdam, at a roundtable on "Social dialogue, gender-based violence and living wage in RMG (present situation and practical solution)".
Fair Wear Foundation organised the event at Azimur Rahman Conference Hall of The Daily Star Centre in the capital yesterday.
The report also states that the women workers did not receive salary regularly while overtime allowance was paid on the 25th the month after. On pregnant women, it says they got the same workload but no extra facility like maternity leave or allowance.
Women's overtime lasted till 12am to 3am, supervisors and line chiefs used bad language if production target remained unmet and masks and ID cards were used only when foreign buyers came to visit, it said.
Towhidur Rahman, secretary general of IndustriALL Bangladesh Council, gave another speech on the necessity of living wages and prospects and Koen Oosterom, country manager, Fair Wear Foundation, the welcome speech.
There were presentations by representatives of partners Bangladesh National Women Lawyers Association, Karmojibi Nari and Awaj Foundation with Shirin Akhter MP as the chief guest. The event ended with an open discussion.