CPA waives storage rent in bids to decongest Ctg port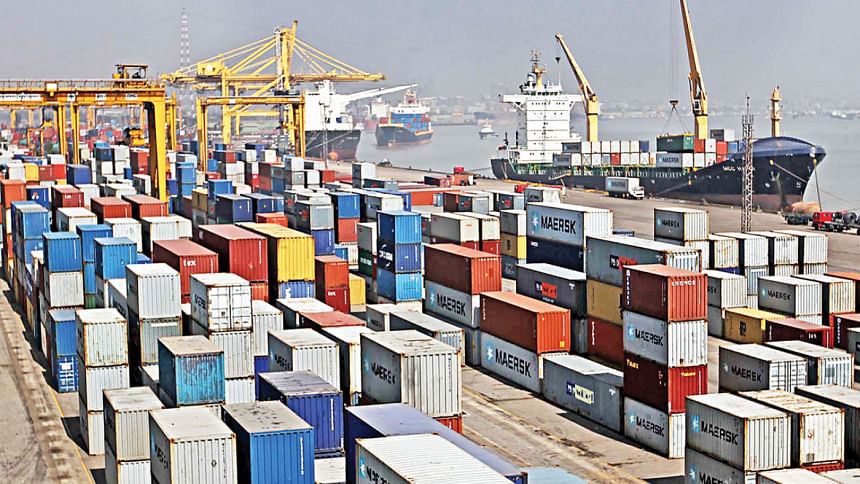 Chattogram Port Authority (CPA) again announced to waive the store rent fully for types of import containers that arrived since the countrywide shutdown started last month on condition of taking delivery by May 4.
CPA Chairman Rear Admiral SM Abul Kalam Azad told The Daily Star today that the importers earlier faced difficulties in taking away their cargoes due to limited services in different offices and lack of logistics.
Since the working hours have recently been extended in the customs houses, banks and other offices, the importers now would be encouraged to take away their cargoes by the port's store rent waiver. 
Garment factory owners brought in around 40 percent of the import containers that are now at the port.
Around 44,492 TEUs (twenty feet equivalent units) of import load containers are now at the port, against its capacity to store 37,620 TEUs.
It is the second time this month that port authorities offered such a benefit to the importers in an attempt to reduce the acute container congestion after poor delivery since the countrywide shutdown began last month.
The last attempt failed to get a response from the importers who rather seemed to have taken advantage of such a benefit and used the port as a warehouse.
"This time, we are offering it for a short period," said CPA Member (admin and planning) Md Zafar Alam, who hopes that the importers will take away their cargoes and help reduce the containers congestion.
On April 5, the CPA announced 100 percent waiver on store rent for import containers that arrived within the general holiday.
But seeing poor improvement in the situation, the CPA's traffic department on April 18 issued another notice saying the benefit would be applicable for containers that arrived after March 27 and that are taken away within April 20.
The following day, BGMEA First Vice President MA Salam in a letter requested CPA to extend the waiver by at least 10 days after the government lifts the countrywide shutdown.
According to CPA Traffic department, the average daily delivery which was at 1,500 TEUs (twenty feet equivalent units) till April 4 before the earlier waiver was announced, sharply came down at 960 TEUs during April 5 to April 19.
Average daily delivery reached over 2,500 TEUs after the waiver expired on April 20, sources said.