British companies keen on Bangladesh
UK's trade envoy for Bangladesh speaks to The Daily Star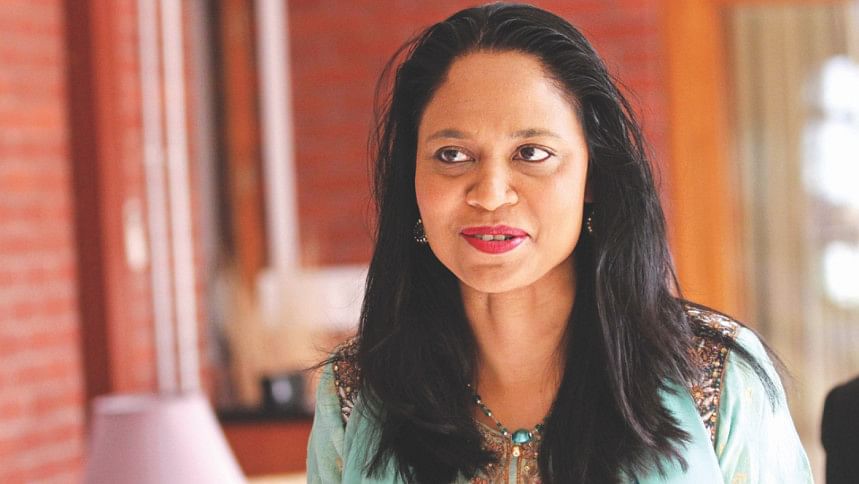 British companies are keen to widen their presence in Bangladesh and make more investment as they consider it a country with enormous potential, said Rushanara Ali, UK's trade envoy for Bangladesh. 
"Bangladesh is very well-placed in terms of these markets with China, Indonesia and India on your doorsteps," Ali, a member of the British parliament, told The Daily Star in an interview last week.
The two-time lawmaker was in Dhaka for a weeklong visit -- her first after becoming the British prime minister's trade envoy for Bangladesh in March this year.
During her visit, the trade envoy met Prime Minister Sheikh Hasina, BNP Chairperson Khaleda Zia, members of the British business community in Bangladesh, and industry and business leaders.
The UK is the largest foreign investor in Bangladesh and third largest export destination for the country.
Over 240 British companies are operating in sectors ranging from retail, banking, energy, infrastructure, consultancy and education.
Ali, a Bangladeshi-born British citizen, said there are lots of investment opportunities in the country.
She singled out the country's insurance sector, which, she feels, is ripe for British investment.
"There is a big gap in the insurance sector in Bangladesh while Britain has some brilliant insurance companies," Ali said, adding that Prudential Plc, a renowned British insurer, is very much interested in the Bangladesh market. 
She said it is important to understand what the barriers to investment in Bangladesh are, and cited gas and electricity shortage as the major deterrents.
"All of these things have to be underpinned by stability and good governance. As these things progress, Bangladesh will see more interest in investment."
She said it is exciting that Bangladesh is spending a great deal to improve the infrastructure.
"It is very much needed. We know that everybody is keen to see that happen here. We, the Bangladeshi community in the UK and the wider business community in the UK, are very keen to see infrastructure development in Bangladesh."
She said the UK sees Bangladesh as a country with enormous potential that is beginning to come through; and the country can do much better.
"The economic growth is very impressive -- much better than in any European country. But, there are other Asian countries that are charging ahead."
She said the UK is willing to help Bangladesh so it can do better.
"Partnerships in infrastructure as well as business partnerships between Bangladesh and Britain are very important for growth."
The British MP termed the preliminary agreement signed between the Bangladesh Railway and British company DP Rail Ltd as a case in point. 
DP Rail Ltd will help set up a 240-kilometre rail line between Dhaka and Payra seaport in Patuakhali's Kuakata, making it one of the biggest infrastructure projects in the country.
The project will be funded by China and Bangladesh as well. "I hope you will find that it is a winning combination. It is a great alliance." The British government has increased its aid to Bangladesh every year.
"There are lots of important opportunities that we need to see being pursued for the betterment of the people of Bangladesh and continuous fight against poverty and inequality, which is a global challenge and not just a challenge for Bangladesh."
About the safety and working conditions in the garment sector, the British lawmaker said there has been a lot of progress since the Rana Plaza disaster, and there can always be more progress.
"At the UK side, our consumers are very keen to make sure that they are purchasing ethical goods -- goods that are produced in decent conditions and human rights are being respected and decent wages are being paid."
Alison Blake, British high commissioner in Dhaka, said there are half a million British Bangladeshis in the UK who can act as ambassadors and help form links.
"So, this is the moment to make all those things come together in order to drive economic growth in Bangladesh and also create opportunities for the UK. It is not a one-dimensional relationship."
The British MP also touched upon the issue of Brexit, saying the UK cannot start negotiations with any country on bilateral relations or trade yet as it is still part of the European Union. 
Britain is using the period leading to the final departure from the EU to talk to its partners to know what their expectations are, Blake said.
"We want the Brexit to work not just for Britain but also for its partners. Our visions of our relationships with Bangladesh and other countries in the Commonwealth are that it would be even better, closer and deeper," the British high commissioner added.
When asked about her comments on recently passed Foreign Donations (Voluntary Activities) Regulation laws in Bangladesh, Ali said she does not have much idea about the issue.
But she went on to hail Bangladesh for being at the forefront of domestically established NGOs.
"Some of the best innovations have happened in this country. Other countries look to Bangladesh when they want to see new models -- and Bangladeshis should be proud of that."
She named microfinance and production of ethical goods as examples.
British NGOs have been in Bangladesh for a long time and have been strong partners in tackling the challenges.
"It is really important for us that our NGOs can operate and work in partnership with others here. We want to make sure that the achievements that have been made continue because there is so much more work to be done in relation to health and education."   
But the NGOs need to be held to account and transparent as well as the government, the British MP said.
When asked about the latest on withdrawing direct air cargo ban, Ali said lots of progress has been made but there are other steps that need to be followed still. 
Talking about Bangladesh's politics, Ali said she is working on trade but one cannot look at it in isolation.
"We need democracy, good governance and respect for human rights and labour standards and civic activism. Lots of these elements are in this country. Obviously, there are political challenges."
But political challenges can only be resolved domestically with the will of key players.
"The international community is there as your friends to provide the appropriate backup and support."