Bepza eyes $4.5b investment from Mirsarai economic zone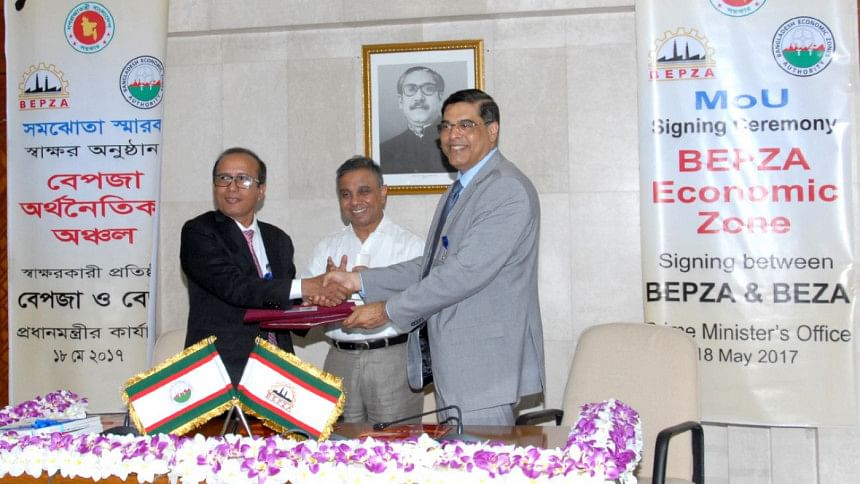 Bangladesh Export Processing Zones Authority (Bepza) will set up an economic zone at Mirsarai of Chittagong with an eye to attracting $4.5 billion in investment.
Bepza and Bangladesh Economic Zones Authority (Beza) signed a memorandum of understanding on the planned zone at the Prime Minister's Office in Dhaka on May 18.
About 350 industrial units will be set up in the proposed economic zone. It will create jobs for half a million people, said Bepza in a statement.
In presence of Abul Kalam Azad, chief coordinator for SDG Affairs at the PMO, Mohd Habibur Rahman Khan, executive chairman of Bepza and Paban Chowdhury, executive chairman of Beza, signed the agreement.
Speaking on the occasion, Khan said Beza has allocated 1,150 acres of land to Bepza for setting up the economic zone.
Eight export processing zones under Bepza located at different parts of the country have already earned reputation for attracting investment.
Paban Chowdhury said Bepza is a successful organisation.
Abul Kalam Azad said Bepza is marching ahead successfully and has set a unique example in attracting investment for others to emulate.
"Bepza is a brand to foreign investors. This brand image will play an important role for attracting investment to the economic zone."
During 2009-16, Bepza attracted $2.66 billion in investment.
In the eight EPZs, the cumulative investment stood at $4.28 billion as of April this year. Some 462 industrial units are now operational in the zones, exporting goods worth $58.17 billion and creating jobs for 469,929 people so far.