Sluggish deposit growth poses stability risks: BB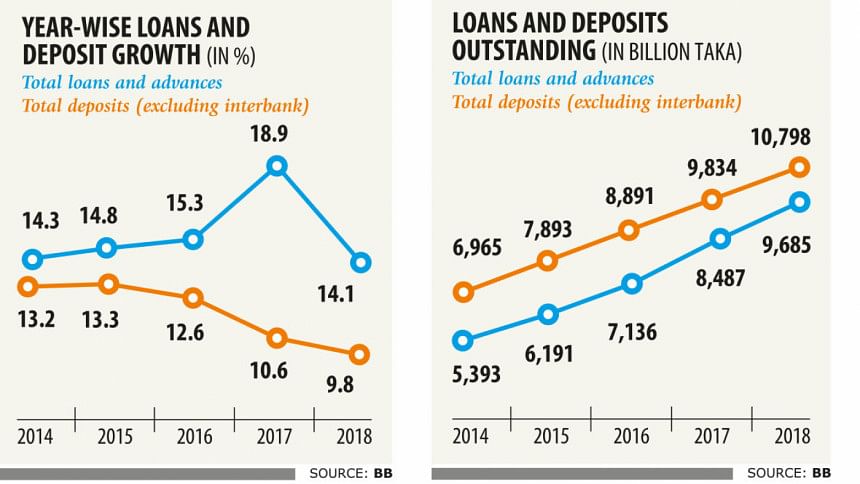 The continued slowdown in deposit growth can go on to raise concerns of stability of the banking sector, said a Bangladesh Bank report -- in a pressing call to the government to cut down the interest rate on national savings certificates.
Deposit growth in the banking sector has been tumbling in the last four years: in 2018 it stood at 9.80 percent, down from 10.60 percent a year earlier and 13.30 percent from four years earlier.
And the large  sales of national savings certificates, which come with higher interest rates than banks' deposit products, has been blamed for the low deposit growth.
There is no other option but to slash the national savings tools' interest rates as soon as possible to bolster banks' deposit mobilisation, said Ahsan H Mansur, executive director of the Policy Research Institute.
The deepening liquidity crisis in banks has already had a negative impact on their lending activities, said the central bank's financial stability report.
In 2018 it stood at 14.10 percent, down from 18.90 percent a year earlier.
The country's economic development will face an impediment if the lending growth declines, said Shafiqul Alam, managing director of Jamuna Bank.
"We have to maintain a balanced growth for both deposit and lending in the interest of the GDP growth. The authority concerned should explore all avenues to help banks mobilise their deposits," he added.  
Mansur, also a former economist of the International Monetary Fund, said the central bank should stop selling US dollar in order to curb the unnecessary imports.
"And of course, the government will have to stop borrowing from the banking sector. Otherwise, it will widen the cash shortage more."
The government should turn to foreign funds to implement its mega infrastructural projects to help banks alleviate their ongoing crisis, Mansur added.
The government did not borrow from the banking sources in the first 10 months of the fiscal year, but from May it fired up its domestic borrowing, sending the cash-strapped banks into a state of panic.
MA Halim Chowdhury, managing director of Pubali Bank, however, expressed hope that the tight liquidity position in banks might ease slightly as remittance was on the increase.
The month of May saw a record amount of remittance flow for a single month as expatriate Bangladeshis sent $1.75 billion to ensure that their loved ones back home can celebrate Eid-ul-Fitr with more festivities.
May's receipts were up 22.43 percent from a year earlier and 16.64 percent from a month earlier. Last month's inflows take the remittance receipts in the first 11 months of the fiscal year to $15.50 billion, up 11.74 percent year-on-year.
Although the government did not cut the rate on its savings tools, it has tightened the policy for investment in the instruments, which will strengthen the banks' liquidity base, Chowdhury said.