Idea and innovation key to success
Bank Asia MD Arfan tells Daffodil International University students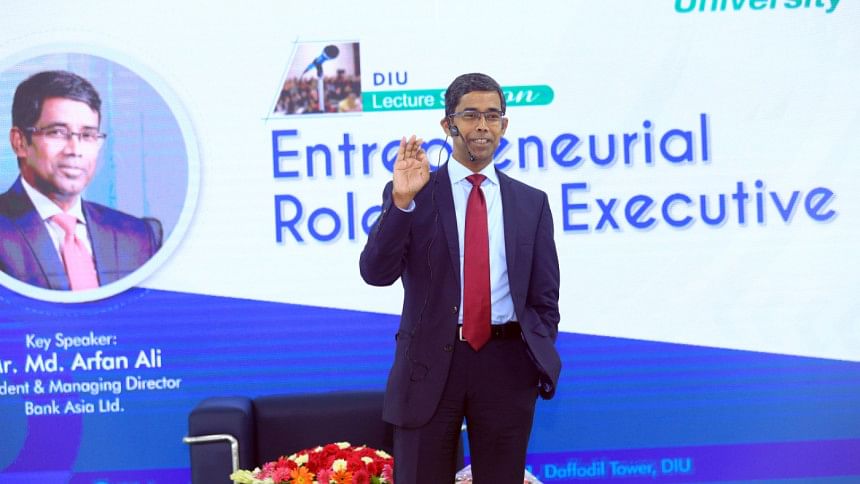 Generating ideas and having a keen mind for innovation are key for a fledgling entrepreneur to attain success, said Md Arfan Ali, president and managing director of Bank Asia. 
"If you have an exceptional idea, don't worry about funding or investment. Banks and financial institutions will find you for their own sake," he said.
He was delivering a lecture to a group of students of Daffodil International University on entrepreneurial role of an executive organised by the university in Dhaka yesterday.
Ali said technology has completely changed modern banking system. Now mobile banking, online banking, app-based banking, and agent banking were being carried out with the help of technology, he said.
"In future, there will be no physical form of money. Introduction of technology like fintech and blockchain will replace traditional banking and banking transactions will be easier and wide-ranging," he said.
He urged students to innovate and develop mobile and online payment platforms like Alipay and WeChat Pay.
"Such innovation not only serve the country but also uphold the image of the country on global stage. On the other hand, if we can't have secured and modern payment platform, we have to rely on foreign conglomerates," he said.
Ali said, "We have to put emphasis on developing our villages if we want to sustain our economic development."
In 1986 the economy of Bangladesh and South Korea were the same. Now South Korea is a first-world country while Bangladesh only a developing country. South Korea could attain this tremendous success only through the development of their villages, he said.
"Every student should visit his village regularly and think about the development of it," he said.
Every citizen of Bangladesh will have a bank account within 10 to 15 years. And every village will have a bank booth or bank branch, said Ali who pioneered and championed agent banking operations in Bangladesh with a view to serving the unbanked and underserved population by providing banking and financial services.
He also urged students to master artificial intelligence as it was becoming the most important thing in achieving goals successfully.
"If you can't be a leader in artificial intelligence, we will be subjugated by the country which has the best ability in artificial intelligence," he said.
Md Sabur Khan, chairman of the board of trustees at Daffodil International University, delivered the welcome speech at the programme. Yousuf M Islam, vice chancellor, was present.