Bank Asia joins Coca-Cola's women empowerment project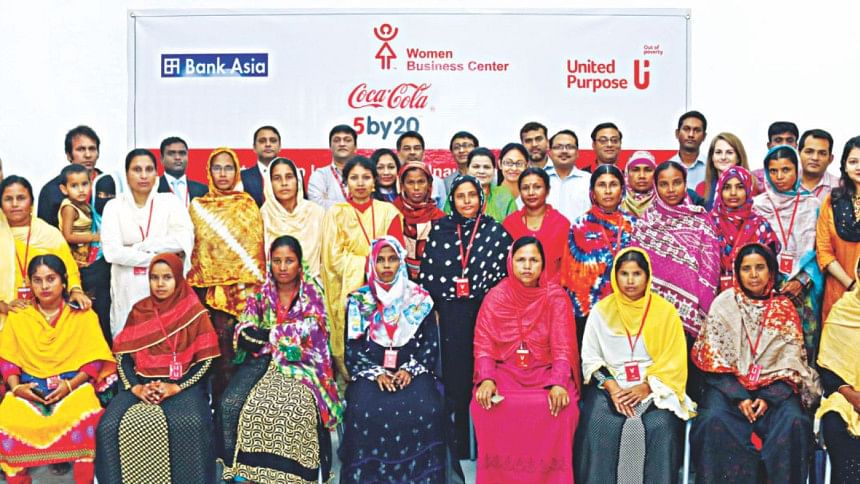 Bank Asia recently joined a Coca-Cola Bangladesh project to impart agent banking training among 25 successful women entrepreneurs of Jamalpur in the latter's Bhaluka plant in Mymensingh .
The women are from a Coca-Cola project titled Women Business Centers (WBC), which aims to assist rural women into providing a variety of services supporting and developing their income generation capacities.
Starting off in January 2015 with 10 WBC in Jamalpur, Khulna and Bagerhat districts, the project now has 40 WBC, having imparted knowledge on agricultural production, marketing, mobile balance recharge and photocopy and nutrition services to 40,000 entrepreneurs.
Bank Asia from now on will support this project by training women into becoming its agents, helping communities at the farthest corners access financial and banking services.
Tapas Kumar Mondal, managing director of International Beverage Private Ltd (Coca-Cola Bangladesh), thanked Bank Asia.
"As an agent of Bank Asia they could generate good income through their agent commissions, as the more they transact, the more financial rewards they are going to receive," said Humaira Azam, deputy managing director of Bank Asia.
"...we are going to hand over their agent banking license very soon. We hope that it would be a very fruitful and mutually beneficial partnership for both of us," she added.