Bangladesh YouthFest 2017 kicks off tomorrow
With the mission of "Transforming 8 divisions through knowledge & innovation", Bangladesh Brand Forum's (BBF) second edition of 'Robi Bangladesh YouthFest 2017' is set to kick off tomorrow.
The festival was inaugurated today at a press conference at Pan Pacific Hotel Sonargaon in Dhaka, said a press release.
The YouthFest 2017 will include holding of a number of youth engagement programs at the university-level from 8 divisions of the country. The festival is powered by Sailor, in association with WE Mobile in 8 divisions across the country.
Bangladesh Brand Forum's Founder & Managing Director Shariful Islam, Telecom Operator Robi's Vice President of Brand and Market Communication Mohammad Yasser Noor, Sailor By Epyllion Group's Head of Brands Rezaul Kabir, and WE Mobile's DGM and Head of Marketing Muntasir Ahmed were present at the press conference among others.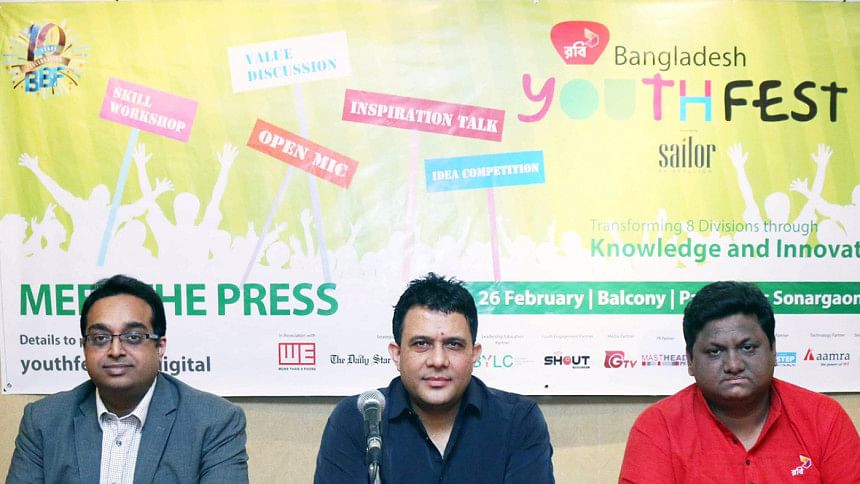 Bangladesh YouthFest 2017 is a unique platform to inspire the undergraduate students of the country to prepare themselves to contribute to their regional growth, the release also said.
The festival comprises of multiple programs such as the idea competition, skill workshop, inspirational talk, open mike, value discussion.
There will be exclusive workshops on Leadership, Critical Thinking, Emotional Intelligence, Analytics, Marketing, Financial Literacy, Creativity, Digital Literacy, and Innovation, according to the release.
Bangladesh YouthFest 2017 is presented by Robi, powered by Sailor, in association with WE Mobile, The Daily Star and Samakal as strategic partners, Bangladesh Youth Leadership Centre (BYLC) as the leadership education partner, Gazi TV as the Media Partner, Amra Network as the technology partner, Webable as the Social Media Partner and Masthead PR as the PR Partner.
The festival is open for registration here.