Bangladesh to sign trade deal with Cambodia: Tofail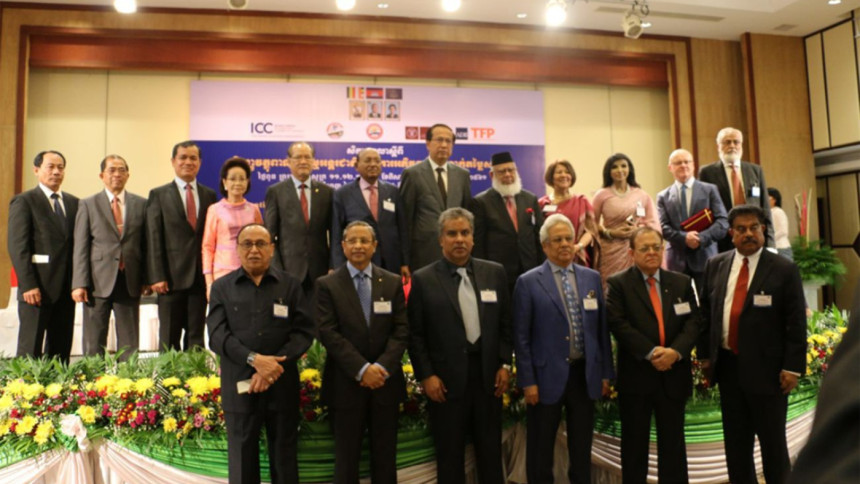 Bangladesh will sign an agreement with Cambodia at the end of June to increase bilateral trade, Commerce Minister Tofail Ahmed said on Wednesday.
The minister also suggested his Cambodian counterpart Pan Sorasak visit Bangladesh for the signing of the deal.
Ahmed spoke while inaugurating a workshop on international trade finance and development of global value chains, at a hotel in Phnom Penh, the Cambodian capital.
The workshop was jointly organised by International Chamber of Commerce Bangladesh (ICCB); the Trade Training and Research Institute of the Cambodian commerce ministry; the Institute of Banking and Finance Cambodia and Asian Development Bank.
There is huge potential for bilateral trade, a statement from the commerce ministry quoted Ahmed as saying.
He also said Cambodia can import medicines, leather products and jute goods from Bangladesh.
He said an agreement and nine memoranda of understanding were signed to boost bilateral trade during Prime Minister Sheikh Hasina's visit to Cambodia last year.
In the last fiscal year, Bangladesh exported goods worth $5.39 million to Cambodia and imported $0.4 million worth of goods.
The MoUs were signed for cooperation in tourism, information and communication technology, institutional cooperation under the joint trade council and collaboration in implementation of sustainable development goals.
The other areas of the MoUs include academic cooperation between the Bangladesh Institute of International and Strategic Studies and the International Relations Institute of Cambodia.
Those also include collaboration in the preservation of war history, war monuments and war relics, cooperation in aquaculture and fisheries and labour and training and promotion of investment between Bangladesh Investment Development Authority and the Council for the Development of Cambodia.
Trade has seen a dramatic change in 2017 thanks to a shift from globalisation to localisation, particularly in the US, China and the UK, said Mahbubur Rahman, president of ICCB.
"The challenges with the US on the trans-pacific partnership, continued Brexit negotiations around trade, trade tariffs and political tensions, will lead to a turbulent 2018 in terms of trade negotiations."
He also mentioned a few new technologies are now being leveraged by retail and high street banks in an attempt to reduce operational costs, ensure trade security and facilitate the use of trade finance products.
Trade finance digitalisation has typically been materialised on products such as airway bills, bills of lading, certificates of origin, purchase orders and invoices.
This digitisation has helped in identifying and tracking customers, goods and the transport of goods, with records of processing and storing business data whilst complying with numerous regulations across different markets.
This is an era where Asia has emerged as the powerhouse of world economy, he said.
The continent accounts for 4.44 billion people or about 60 percent of the world population occupying 30 percent of the land in the world.
The developing economies of the Asia and the Pacific region currently account for about a third of the world's output, and they are quickly reaching an economic status at par with that of the combined share of developed economies in North America and Europe, he added.
Rokia Afzal Rahman, vice president of ICCB; Mohammad Fazlul Azim, managing director of Azim Group; Matiur Rahman, former president of Dhaka Chamber of Commerce and Industry; Abdul Hai Sarker, managing director of Shohagpur Textile Mills Ltd; Mohd Arshad Ali, managing director of the Merchants Ltd; Md Fazlul Hoque, managing director of Plummy Fashions Ltd, and Mohammed Abdul Awal, chairman of Bengal Shipping Line Ltd, were also present at the workshop.