Apparel exports to India soar 66pc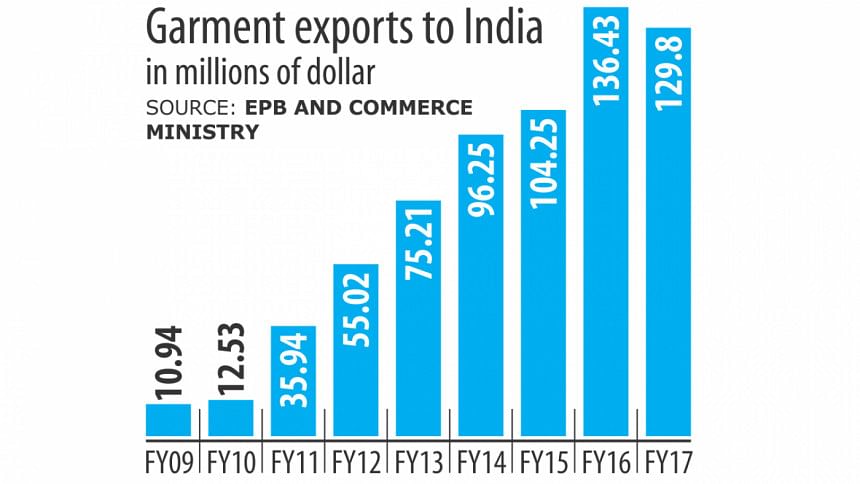 Garment exports to India soared 66.41 percent in the first six months of the fiscal year on the back of demand from Western brands operating in the neighbouring country and closure of some small- and medium-scale factories.
Between July and December last year, garment shipments to the neighbouring country fetched $111.33 million, according to data from the Export Promotion Bureau.
"India is becoming a major market for us," said Mohammad Hasan, executive director of Babylon Group, a leading garment exporter.
The reason for the spike, he says, is that global retail giants like H&M and Walmart have started sourcing apparel items from Bangladesh for Indian consumers.
The shuttering of a horde of small and medium factories all over India for their failure to maintain strict compliance requirements and pay higher wages over the last two years also played a part in the surge in shipments from Bangladesh.
Abdul Matlub Ahmad, president of India-Bangladesh Chamber of Commerce and Industry, echoed the same.
"Our exports to India will grow further in the near future as local exporters are enjoying different trade benefits to the neighbouring country."
The cost of importing garment items to India from other countries is very high, due to which the Western retailers have started sourcing apparel items from Bangladesh in big volumes, he said.
"We are expecting that our exports to India will cross the $1 billion mark in June this year. And we have been struggling to reach this mark for many years now," Ahmad added.
Apart from Western retailers, some Indian retail giants have also been sourcing garment items in big volumes from Bangladesh, said Siddiqur Rahman, president of the Bangladesh Garment Manufacturers and Exporters Association.
"India, China and Japan are our next big markets in Asian region," he added.
Although the majority of Bangladeshi goods enjoy duty-free benefit in the Indian market, garment exports to India did not rise much over the last few years due to the imposition of 12.5 percent countervailing duty on items from Bangladesh.
Bangladeshi garment exporters also face provincial taxes and non-tariff barriers in India, which has an apparel market worth nearly $40 billion.
However, garment exports to India have been showing signs of pickup from last year.
Overall, exports to India increased 5.99 percent year-on-year to $361.91 million in the July-December period.