Remittance hits record in May
Receipts were 22.43pc higher from a year ago and 16.64pc up from a month earlier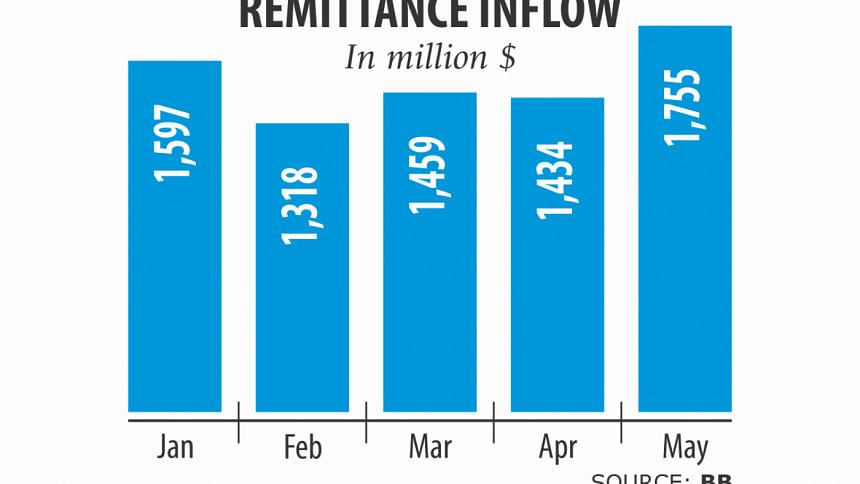 The month of May saw a record amount of remittance flow for a single month as expatriate Bangladeshis sent $1.75 billion to ensure that their loved ones back home can celebrate Eid-ul-Fitr with more festivities.
May's receipts were up 22.43 percent from a year earlier and 16.64 percent from a month earlier, in a development that will give some breathing space to the country's strained foreign exchange reserves.
One of the reasons for the spike in remittance is that many banks are offering competitive rate to attract remitters with a view to strengthening their foreign exchange reserve, said Kazi Sayedur Rahman, executive director of Bangladesh Bank.
Besides, the exchange rate of taka has recently dropped against the US dollar, which has also encouraged remitters to send their hard-earned money through the legal channel.
On May 30, the interbank exchange rate was Tk 84.50 for a dollar, up nearly 1 percent from a year earlier.
Besides, the central bank has beefed up its monitoring against 'hundi', an illegal process of transferring money from one country to another, which had a positive impact on remittance, according to Faruq Mainuddin Ahmed, managing director of Trust Bank.
Both the central bank and commercial banks ran awareness programmes abroad, he added.
May's inflows take the remittance receipts in the first 11 months of the fiscal year to $15.50 billion, up 11.74 percent year-on-year.
The current account balance, which has been in large deficit for long, will get a respite due to the remittance inflows.
As of May, the current account deficit was $4.23 billion, down 34.73 percent from a year earlier.
"The deficit is still high," said a central banker. The majority of the banks are facing acute foreign exchange crisis for high import payments for the government's mega infrastructure projects.
The central bank is now injecting the US dollar into the market on a regular basis to help banks manage the ongoing crisis, he added.