Budget positive for motorcycle makers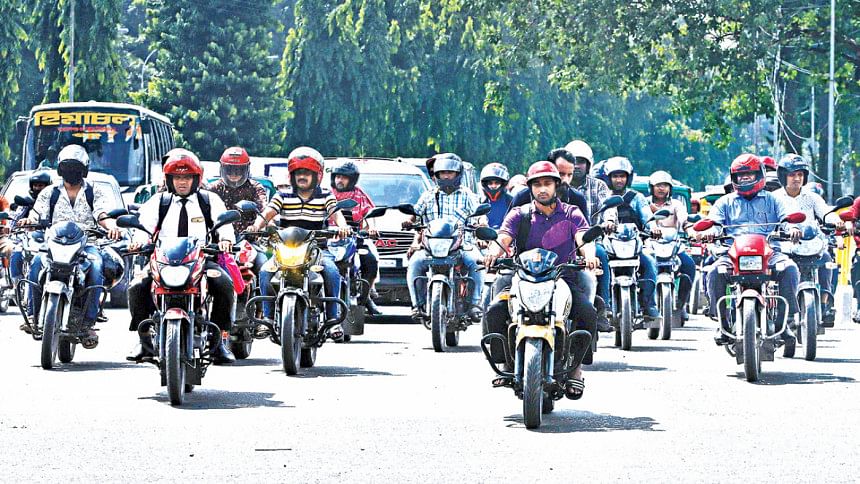 The continuation of concessionary duties on raw material import for motorcycle manufacturers into fiscal 2019-20 would help the fast-growing sector, said market players.
Furthermore, Finance Minister AHM Mustafa Kamal added three new raw materials into the list for concessionary duty, which has been around since fiscal 2017-18.
"This is great news for the automobile sector," said Hafizur Rahman Khan, chairman of Runner Automobiles, one of the leading motorcycle manufacturers.
He, however, called for a long-term policy for the sector, as the constant change in rules leaves investors in a state of confusion and scares off potential ones.
"Investors would be at ease then."
Khan went on to recommend a policy for local vendors who supply components for motorcycle manufacturers like tyres.
The government's move to declare it a thrust sector would help expand motor bike assemblers and manufacturers' business, said Abul Kasem Khan, former president of the Dhaka Chamber of Commerce and Industry.
 "I think entrepreneurs will invest in this sector and foreign investors come to invest in this sector. The demand of motor bike, three wheelers and four wheeler is increasing gradually, so the government's initiative is really positive."  
Abdul Matlub Ahmed, chairman of Nitol-Niloy Group that manufactures the Indian brand Hero's motorcycles in Bangladesh, echoed the same.
"This support would help the local industry to grow from small to big," he said, adding that if the government continues with this support there would be no need to import fully assembled motor cycles.
It will help in employment generation and building up skilled manpower.
About 4 lakh units of motorcycles were sold last year, and the annual sales figure will cross 15 lakh units by 2025.
The motorcycle market size reached approximately Tk 4,000 crore in 2018, according to an estimate of the market players. At present, local manufactures caters to 40 percent of the total demand for motorcycles in Bangladesh.