Apparel exports to new markets on the rise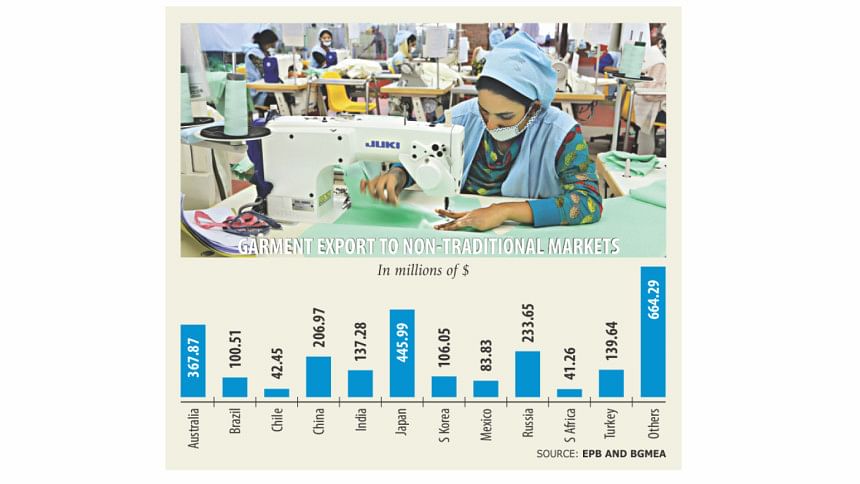 Garment exports to non-traditional markets rose 3.77 percent year-on-year to $2.56 billion in the July-January period of the current fiscal year thanks to preferential trade benefit and fiscal incentive.
Apparel shipments fetched $2.47 billion in the same period last fiscal year, according to data from the Export Promotion Bureau.
In 2008, garment exports to the emerging markets stood at only $800 million. Since then it started climbing and rose five times to $3.90 billion in 2015-16.
Bangladesh considers all countries as non-traditional markets except for its key destinations such as the European Union, the US, and Canada.
India, China, Russia, Japan, South Africa, Turkey, Brazil, Chile, Mexico, South Korea, Malaysia, Australia, and New Zealand are among the major non-traditional markets for the garment sector.
Shipments to the emerging markets are rising on the back of zero-duty benefit granted to Bangladesh, opening of retail stores by global brands, market diversification by local exporters, and the government's fiscal incentives. Bangladesh receives the zero-duty benefit to markets such as Japan, India, and China. As a result, shipments to the markets are rising at a faster rate.
Riding on the relaxed rules of origin, garment export to Japan grew 1.94 percent to $445.99 million in July-January and is expected to cross $1-billion mark at the end of the year.
"Japan is a very promising market for us. Japan is the second largest export destination after the EU for our company," said Balaram Roy Chowdhury, general manager of Narayanganj-based Metro Knitting & Dyeing Mills Ltd.
Chowdhury expects his company to send $45 million worth garment items to Japan in 2018, up from $40 million last year.
In 2011, China granted duty-free export facility to Bangladesh for nearly 5,000 items, mostly garments. 
Local garment exporters also enjoy duty-free export benefit to India, although they are facing 12.5 percent countervailing duty at present.
Fazlul Hoque, managing director of Plummy Fashions Ltd, said the opening of retail stores by western major brands and retailers in the non-traditional markets such as India and South America has boosted garment exports from Bangladesh.
Exports to Brazil, Chile and Mexico are growing at a faster rate, said Hoque, who supplies apparel items to Falabella, the biggest brand in Latin America.
China has also established its own brands and retailers to cater to local customers and these brands buy apparel items from Bangladesh in bulk amid Chinese manufacturers' growing reluctance to produce basic garments.
Hoque said the market diversification initiatives undertaken by both the government and the exporters were paying off.
The government began giving cash incentives on garment exports to emerging markets to help exporters weather the impact of the global economic crisis of 2007-08.