Accountability the answer to real estate sector's woes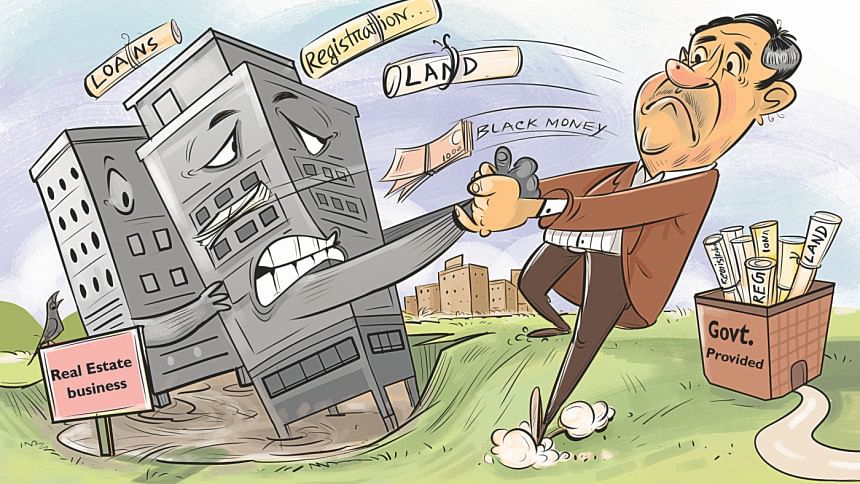 In 2011, with great hope, Monwara Shameem had handed over her 8.25 decimals of land in Mohakhali DOHS to a reputed developer to construct a six-storied apartment building.
Since it was a prominent realtor, she was certain that her brand new home would be ready for her and her family to move in in three years' time, and she went about dreaming up the interiors for the space.
But, she never got the chance to do up her longed-for duplex apartment, as she passed away last year -- four years after the promised handover date.
The flats are unlikely to be ready anytime soon: only the skeleton of the six-storied building has been erected in the last eight years, with no construction work taking place at present.
In the past five years the developer sought extensions many a times, which Shameem had no choice but to go along with. But now, her family's patience has worn thin and they are at a wits' end over the issue.
Taking the long winded legal route against the developer, who also has kept three other landowners in the neighbourhood hanging, appears to be the only option for them to reclaim possession of the plot.
Like them, tens of thousands of landowners and many more buyers from all over the country are in limbo.
The majority of the buyers and landowners' complaint is the delay, said a realtor who has been in the business for 30 years now. He requested not to be named to speak candidly about the issues holding back the real estate sector.
"And they don't have anywhere to go when that happens. So, there should be an accountability authority to look after the buyers and landowners' interests."
If it isn't delays, there are quality issues too: the buyers and landowners are often not happy with the product they are handed over.
"Because of a few bad apples all of us get a bad rap and people are cynical about developers. So, it would be good if we are all under surveillance."
But, it is not that the apartment buyers are never at fault.
"They also put us in difficulty at times. When they commit to buying an apartment from us, we expect a monthly flow of cash from them and plan our finances accordingly. So when they skip out on an instalment it throws a spanner in the works."
There are many developers who are trying their level best to keep their word to their customers but has to put construction works on pause because of the cash flow crisis, he said.
Any construction project is a huge investment and it is not possible to self-finance them, regardless of how big the realtor is.
There are more than 1,200 developers in Bangladesh but not even 10 of them self-finance their projects, according to the realtor, who has ongoing projects in Mohakhali DOHS, Banani, Cantonment, Uttara, Mohammadpur and Mirpur.
"So, when the consumer is not keeping their commitment, the developer has no place to go. The maximum we can do is send them letters and ask them to pay," he added.
Delays also happen for bureaucracy.
It takes more than two months to get planning permissions -- even after paying speed money, said another realtor who recently entered the industry and has three ongoing projects in Rampura, West Badda and Mirpur.
"This kills time," he said upon conditions of anonymity for fear of reprisal.
All that the official sees is a drawing of the planned building maintaining the rules and regulations of the area.
"It shouldn't take that long," he added.
The senior realtor echoed the same.
"In Malaysia, Singapore, it takes two years to build a 30-storied building. Here, we can build a six-storied building at best in two years. There is no reason to keep us hanging for two months for a matter this straightforward."
Not just that, one has to pay speed money to get the files moving along.
"I can choose not to pay them bribes, but my permission will take longer and the landowner will come and say that so-and-so developer has managed to do it in two months, so why can't you? The system is pushing me to do that and I cannot come out of that process."
Another challenge facing the real estate sector is the astronomical land prices, which push up the prices of apartments.
"It's true that there is land scarcity in Dhaka. Dhaka is the epicentre of Bangladesh, so everybody wants to be here. How far Bangladesh has come as a country and an economy can best be experienced in Dhaka. So, our only option is to go vertical," said the first realtor.
But that still does not explain the land prices in the capital.
"It is not New York or Chicago or Hong Kong or Singapore or London. We all live here because we have to -- it's not a pleasant city to live in that such staggering prices can be commanded," he added.
Alamgir Shamsul Alamin, president of the Real Estate and Housing Association of Bangladesh, echoed the same.
"Because of this, we are failing to cater to the middle-class," he said.
He went on to call for allocation of plots be made to developers than to individuals. The developers would then build apartment complexes and sell to individuals. In that way, everyone can be a homeowner.
"I am completely against the allotment of one plot to one person in a land-scarce city like Dhaka by Rajuk [Rajdhani Unnayan Kartripakkha]."
The only way the realtors can provide flats for the middle-class that would not be taxing on their pockets is by developing apartment complexes outside of Dhaka like in Savar, Gazipur.
"But that is not feasible yet given our poor road connectivity and public transport," Alamin said, adding that unless the Dhaka Elevated Expressway becomes operational that idea would remain just that.
A solution until then, as per the first realtor, would be if the government sets an area-wise land price that truly reflects the value the real estate provides in terms of location, security and amenities available.
Extortion by local miscreants is another reason why the developers are unable to provide affordable flats for the middle-class even in areas where the land prices are not exorbitant yet, he said.
"We have to factor all that in."
The backward linkage industry also needs to be watched over, he said.
"In Bangladesh, things only become dearer and rarely cheaper. Say, for instance, there is an announcement in the budget of a 5 percent increase in tax on clinkers. The budget should get passed in the parliament and then a gazette would be issued for the higher tax to take effect."
But here, the price goes up the very next day. "It's not like a supply scarcity would crop up overnight."
However, in case of tax cuts, the vendors wait until the gazette is issued for the price to come down. "There is zero accountability."
Another factor that adds to higher pricing of the flats is the double-digit interest rates.
"It's prohibitively high. I hope the policymakers bring it down to an accommodating level for us."
After all, the real estate sector provides livelihoods to more than 2.5 million people and backward and forward linkage industries have emerged because of this.
"For instance, 10 to 15 years back, cement was mostly imported. But now we have so many local manufacturers that there is no need for imports. And that has happened only because of the real estate sector. You have one Padma bridge, one metro rail project, but after that?"
So, the government could do well by giving more attention to the problems of the real estate sector.
"The government should enforce accountability all along so that no one gets cheated at the end of the day," he added.
Were that in place, Shameem's dream would not have ended on such a desperately sad state.