$600m to be invested for 258MW solar power
Joint ventures to set up four power plants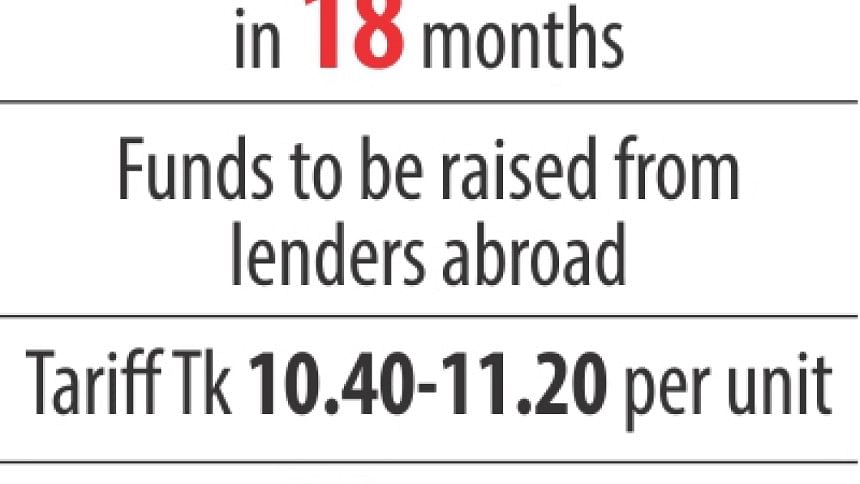 Four joint venture companies are going to invest more than $600 million in different parts of the country to generate 258 megawatts of electricity from solar energy.
The cabinet committee on purchase yesterday approved a proposal to set up the four power plants. The government will purchase electricity at Tk 10.40 to Tk 11.20 per kilowatt-hour unit.
Funds for the power plants will be raised from international banks and financial institutions, according to power division officials. 
The division has selected the companies based on their financial strength and capacity to raise credit, said an official.
He said the figure on the actual investment to be made by the companies will be available after implementation of the projects, which have to be completed within 18 months of signing the agreements.
A consortium of Zhejiang DunAn New Energy Co, China National Machinery Import and Export Corporation, Solar Tech Power and Amity Solar will set up a 100MW plant in the Teesta barrage area under Nilphamari and Lalmonirhat districts. The plant will be run on a built-own-operate basis. The government will purchase each unit of electricity at Tk 11.20.
The consortium has offered a separate commitment letter on equity financing, while China Development Bank has submitted a letter of intent on debt financing, according to the power division.
Energon Technologies FZE of the UAE and China Sunergy Co will construct a 100MW solar power plant at Mongla in Bagerhat. Each unit of electricity will cost Tk 11.04.
The power plant will have three phases: 30MW in the first phase, 30MW in the second phase and 40MW in the third phase.
Energon Technologies will finance 75 percent of the equity while some 80 percent of the total project cost will come as debt. Two banks have committed loans for the project. Netherlands Bank is interested to lend up to $725 million.
A 50MW solar power plant will be set up in Tangail.
A consortium of Hanwha 63 City Co Ltd and BJ Power Company Ltd of South Korea and Solar City Bangladesh Ltd will construct the plant. The government will purchase power at Tk 10.40 a unit.
The total project cost is $131 million, according to the project proposal.
An 8MW solar power plant will be set up in Panchagarh by a joint venture of Paragon Poultry Ltd and Parasol Energy Ltd of Bangladesh and Symbior Solar Siam Ltd of Hong Kong. Each unit of electricity will cost Tk 10.40.
Bangladesh now produces 190MW of electricity from solar energy, according to the Sustainable and Renewable Energy Development Authority. This represents 44 percent of the renewable energy produced in the country.
The government is diversifying its energy sources amid depletion of natural gas reserves, which account for more than half of 8,000MW to 9,000MW of actual electricity generation in the country.
The contribution of renewable energy to overall electricity production is about 2 percent. The government plans to raise it to 10 percent by 2020.