20pc duty on sugar import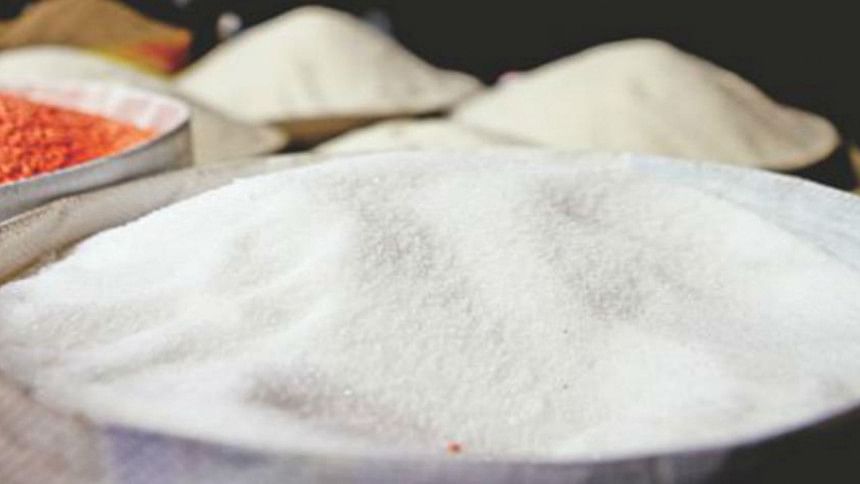 The National Board of Revenue (NBR) today imposed 20 percent Regulatory Duty (RD) on raw and refined sugar in order to protect local mills from losses due to falling prices of the sweetener in the international market.
Following the move, retail prices of sugar are likely to go up from the present level of Tk 40 each kilogram, said industry insiders.
The RD will be added on the existing specific Customs Duty on both the raw and refined sugar at Tk 2,000 and Tk 4,500 per tonne respectively.
"We have slapped the duty to facilitate state-run sugar mills to better compete with imported sugar," said a senior official of NBR, seeking to remain unnamed as he is not authorised to talk to the media.
The measure came nearly two months after the revenue authority withdrew its bid to hike duty on both the raw and refined sugar through the budgetary measures for fiscal 2015-16 to safeguard local mills from losses resulting from falling prices in the international market.
Bangladesh Sugar and Food Industries Corporation (BSFIC), which runs 15 state-owned sugar mills, has been demanding duty protection to trim down losses and to clear stock of 140,000 tonnes of unsold sugar as quickly as possible.
"It is good initiative from the government. It was tough for us to sell sugar smoothly because of its falling prices in the global market. The measure will allow us to pay wages to workers and to buy sugarcane from farmers," BSFIC Chairman AKM Delwer Hussain told The Daily Star.
Over the last several quarters, sugar prices continued to fall as supply outpaced demand.
World sugar prices fell to US$ 0.29 each kilogram in the April-June quarter of 2015 from $0.40 a kilogram year on year, according to World Bank Commodities Price Data.
As a result of the slump, sugar can be bought from the global market at close or just above Tk 30,000 each tonne, which is much below the BSFIC's production cost, according to Hussain.
BSFIC, at present, sells sugar at Tk 37 per kilogram while private refiners sell the sweetener at Tk 33 for the same quantity.
The present offer price, its officials say, is half of BSFIC's production cost, according to officials.
The BSFIC chairman said imposition of duty will enable the government to log more revenue.
However imposition of RD will not create any instability in the domestic market, he added.