Wisdom of a Revivalist
Author: Subrata Kumar Das || Reviewed By Akbar Hussain || Publisher: Bangladeshi Novels, Toronto,2015; Price: 10 Dollars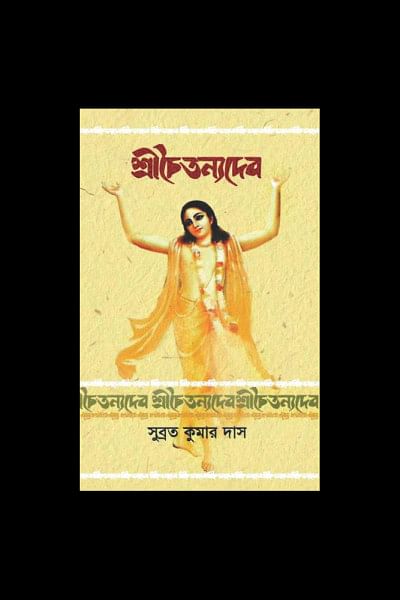 Sri Chaitanya Deb (1486-1533) was an interesting and charismatic personality of the 16th century in Bengal, Assam, Orissa and across the eastern India. Although primarily his fame was related to a religious movement, his influence was also felt in reforming the society, politics and culture. 'Sri Chaitanya Dev', written by Subrata Kumar Das, a Toronto-based activist, is an attempt at exploring  the life, works and mission of Chaitanya, the historical Bengali Hindu revivalist. Written in a easy Bengali, the book may satiate the thirst of the common readers. On the other hand, it is rich in details which for any future researcher can work as a valuable reference book.
We get a clear picture of Sri Chaitanya's life and works in this book which is not confined to religious perspective only. Subrata has dived deep in the historical context as well as philosophical aspects. From this book, we come to know that this great religio-cultural revolutionary did not write any book or proclaim any dogma to propagate his thoughts. Only eight Sanskrit slokas, known as 'Shikshasthaka' (Eight lessons to learn), are to his credit. One of them I have memorized for my personal satisfaction. The English rendering of the sloka reads: "One who thinks of himself lower than the grass, who is more/ tolerant than a tree, and who does not expect personal/ honour but is always prepared to give all respect to others,/ can very easily always chant the holy name of the Lord." 
Subrata has mentioned that hundreds of books have been written on Sri Chaitanya Deb but almost none from Bangladesh although he was born in East Bengal and his main area of work was mostly in that part. It's true that Bengali culture and literature has been greatly enriched by Vaishnava thoughts but we have done nothing to celebrate the life and work of this great man. Expressing his dismay, the writer has mentioned in his recent book that it might be due to parochial religious sentiments.
The origin and development of Vaishnava religion in Bengal was a momentous event which originated from the time of Chaitanya. The writer has brought into light some very interesting facts about Vaishnava religion e.g.  its origin, philosophy and gradual development. Subrata also has taken great pains to discuss the salient features of Sri Chaitanya's doctrine and his connections with the origins of his movement. He has discovered and connected the links between life and love for Lord Krishna as we find in the philosophical aspects of the Gita. He has found love as the source of emancipation or Nirvana which is the essence of life.
To any intellectual and thoughtful mind religion is always a matter of concern due to its inherent tendency to be guided by immovable dogmas based on the premise that in the realm of knowledge fables and dogmas are not acceptable option. Human knowledge is like a stormy ocean which is constantly churning to find out the essence of knowledge and its application for the betterment of our society. 
I would acclaim this book for its efforts to find a unity with the contemporary times. There is a fundamental dose of tolerance in Indian way of thoughts. Even in the age of the Rishis and ancient scriptures the main impetus was on knowledge, not on dogmas. Sage Charvaka even being an atheist was not abandoned or killed. Rather he was respected as a Rishi for his knowledge. If we go through the history, we will find that Sri Chaitanya rightly followed the great traits of Indian tolerance. The book by Subrata Kumar Das is an effort to revive the great Indian traditions ushered by Chaitanya, the great Bengali philosopher and social activist.
This book on Sri Chaitanya Dev is a documentary proof of his understandings of a man who tried to spread this idea of universality almost 600 years ago. Hinduism was beset with caste system, dictatorship of Brahmanism and took rituals as religion. It was Chaitanya who revolted against those systems and declared and dreamed of a world that will be governed by love and mutual respect. 
'Sri Chaitanya Dev' has been written with much dexterity and experiment digging out reference from various sources. It is hoped that it will help the readers to be enlightened on the life of the great wise man who  was a reformer. Subrata has skillfully depicted the great but humble personality of a man who was much ahead of his life and times.
Editions of the book from Dhaka and Kolkata will surely be worthy efforts to meet the expectations of the greater Bengali-language readership.  
The reviewer is a freethinker, writes from Toronto, Canada.