The Burden of Miracle in Poonachi: or the Story of a Black Goat
Perumal Murugan. ISBN: 9386850494. Westland Books, 2018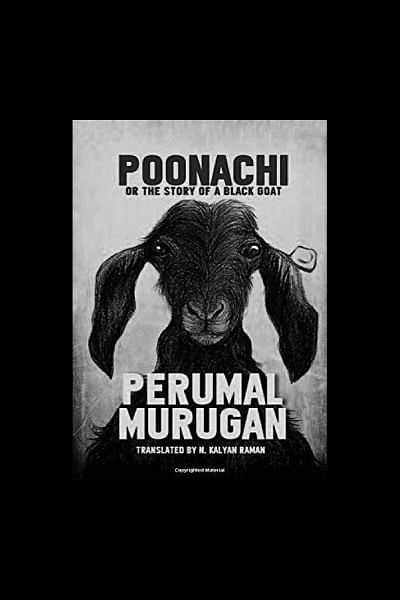 Perumal Murugan, the Tamil writer who rose to fame with self-declaration of his death as an author following protests by the Right wing against his writing, has resurrected with a forceful new novel, Poonachi. The protagonist of the novel is a goat, a safe choice considering how, as he writes in the beginning of the novel, he is fearful of hate-mongering against him. He says, "I am fearful of writing about humans; even more fearful of writing about gods. I can write about demons. Perhaps, I am even used to a bit of the demonic life. I could make it an accompaniment here. Yes, let me write about animals."
Murugan is a writer for the common man and marginalized communities who strive for bare survival in the wake of social hierarchy, natural calamities, and lack of resources. His novels and short stories unleash the pain of the poor and the vulnerable while exposing unjust social systems.
It is interesting to note that the idea of survival in the novel is not merely a struggle against harsh living conditions, but the need for sexual gratification that finds an important expression in Murugan's work. Poonachi has a rustic setting- a semi arid land, erratic rain patterns, scarcity of food, but a tenacious will to survive and to love.
The novel has traits of traditional storytelling. The "ONCE, IN A VILLAGE" onset of the novel gives it an aura of children fables like the Panchatantra and it goes on to delight and dictate through the art of storytelling. A stranger leaves poonachi, a baby goat, with the old man and reluctantly he agrees to raise her with all his affection. His wife, who is also reluctant in the beginning, begins to love her. Poonachi is an accidental name the old woman gives to the new black goat as an outburst of sudden affection, and in the memory of her old cat.
The old couple continues to strive to provide for the goats even in dire straits. There are days when Poonachi lives only on rice water simply because there is no milk or food. The drought and the scarcity of food are a constant worry for the old couple but they try hard to make both ends meet. Poonachi also begins to take delight in the company of the old couple and other goats.
There is nothing remarakable about Poonachi's life- her ability to breed multiple progeny at once is a burden on everyone, including Poonachi herself. The novel, however, is not just about survival or the hardships endured by a poor, old couple or their starving goats. Poonachi doesn't have rights on her own body. She is denied any pleasure that life might have to offer her. She lives under the bondage of the old couple and is mated with an old partner, who she thoroughly detests. When she finally fulfils her desire of making love to Poovan, someone she finds sensual, he is killed next day and she is left alone once again. Not even her kids are her own. She cries and grieves when her litter is separated from her. In short, she lives a life of a slave.
In the world of human superiorty, what is the worth of a goat's desire? Murugan deals with hard questions pertaining to Indian society with a specific backdrop of the rural life in Tamil Nadu. In a society where deities are worshipped, women, unfortunately, are constantly abused and marginalized. Murugan challenges everything from patriarchal society to the groundless religious and cultural beliefs, the cult culture, exclusion of marginal communities, and the sheer negligence towards any other form of life. This hypocrisy ingrained in the Indian social system is one of the concerns Murugan wilfully raises in the novel.
A malnourished goat could allegorically represent a malnourished girl or a helpless woman, for more or less all women in the given context of a man's world occupy a subordinate position. Poonachi represents an orphaned, poor, and a feeble being with no one capable of loving her unconditionally. Poonachi is like a woman in a merciless world, for she is both a miracle and a burden at the same time, when needed and treated so.
The English translation by Kalyan Raman is appreciable at many levels. The language is simple and lucid, making the novel a delightful read. It is also capable of translating a rural Indian setting into English language with much ease and ingenuity. It is highly encouraging to see the craftsmenship of literary translation finally being acknowledged as an art with its own standing.
Fathima M. is a PhD student at the Centre for English Studies at Jawaharlal Nehru University, New Delhi. Her writings have appeared in The Wire and Wasafiri among others.