Grow Your Reader to host 'Book Garage' donation event until June 15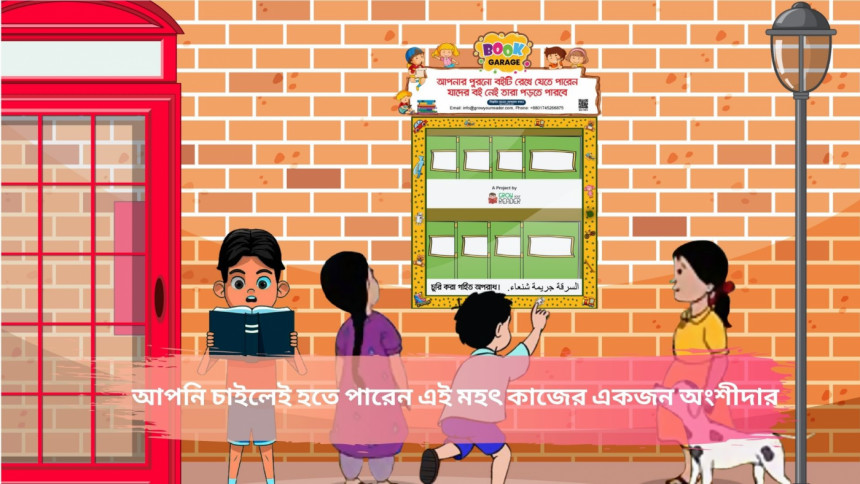 Grow Your Reader, an organisation founded recently on the directive of "ensuring quality education" for underprivileged children, has launched Book Garage, which opened its doors on the first of June. The initiative is founded on a simple ethos—leave your old books behind, so those that don't have the means can pick up and discover a new book for free.
The initiative is seeking book donations, be it novels, collections, comic books, or school text books. Donors can send their books to Book Garage's Baridhara DOHS offices through courier or package delivery apps like Pathao and Uber. The address is available at the event's Facebook page.
Donations will be accepted from June 1 to June 15, after which the donated books will be collected and displayed in street libraries, to be located at four spots in Dhaka city, open for all and at all hours. In addition to the books, participants have the option to send monetary donations to aid in the endeavour through bKash, Nagad, PayPal, or directly through the bank.
Grow Your Reader started as an organisation in 2016, with their goal essentially lying in instating libraries across the country. Earlier in 2021, the venture inaugurated their ambitious project, Wheels of Wisdom (WOW), which sees a mobile cart driving around the city, with a compact library in the back. Under current restrictions and the advent of a new wave of the Covid, however, "Gann er Gari" is currently in a moment of stasis.
Its organisers, however, are not. Grow Your Reader speedily altered courses, thinking of ways yet to carry out their mission—"now more needed in the country than ever, given the alarming rates of school dropouts and the overall uncertainty and anxiety that hangs over regular education's reopening", said cofounder Sadia Jafrin Khan to The Daily Star. The organisation formulated a new project that would retain the same objectives while maintaining a lower operational cost than the previous, "quite expensive" WOW.
These are the circumstances that bore the new Book Garage, which looks to minimise the current educational woes, which especially impact the less fortunate. "Book Garage aims to gradually increase literacy, and inspire those children currently out of school to keep reading and keep learning", said Khan, "with the hope that they one day get back to school".
For those that want to benefit society in a time when help is most needed, donation drives like Grow Your Reader's are ones to keep an eye out for.
Mehrul Bari S Chowdhury is a writer, poet, and artist. His work has appeared in Blood Orange Review, Kitaab, and Sortes Magazine, among others. He is currently the intern at Daily Star Books.