Haruki Murakami's "After Dark"
Reviewed By Dr. Shibli Jabir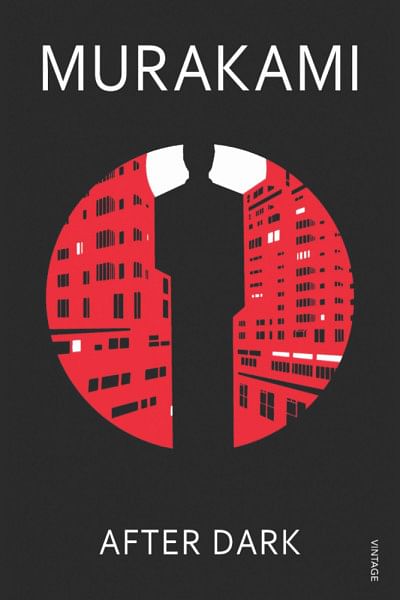 Haruki Murakami is a popular contemporary Japanese writer with impressive credentials. His work has been translated into more than 50 languages, and he has won several prestigious awards including Franz Kafka Prize. "After Dark" (translated by Jay Rubin) is a post-modern novel which starts with an everyday scene at Denny's, a fast food restaurant in Tokyo, and takes us through various themes:  alienation of two sisters living in Tokyo; some events, almost random, from midnight to dawn; and various social issues, including prostitution, growing pains, and Japan's fascination with western culture.  
Of the two sisters, Eri Asai, the elder one, is a fashion model and we observe her from a distance as she sleeps away during the entire novel, from 11:56 PM to 6:52 AM. In the opening scene, the younger sister, Mari, a 19 year old freshman in college is seen reading a book by herself at a Denny's where she meets a jazz trombonist named Takahashi on his way to a rehearsal with his band, and who just happens to pick the empty chair at the table where Mari is seated. Takahashi recognizes Mari from a chance encounter many years ago, and initiates a conversation that lasts in fits and starts throughout the night, although at different places and at different points on the time line. 
Each chapter is marked with the image of a clock which logs the advance of time from 11:56 PM and ends at 6:52 AM the next morning.  During these seven hours, we track these three people. Takahashi, we learn soon, has decided to give up music and become a lawyer. Takahashi was brought up by his father, a shady character, and his step mother, but he is not very close to either of them. The sisters on the other hand live with their parents who gave them all middle-class comforts. An interesting aspect of the story line is the complex relationship between the sisters and the developing friendship between Mari and Takahashi after their first meeting. Takahashi also recounts to Mari how they met many years ago, on a blind date, when she was a pre-teen and had accompanied Eri who had arranged the double date.
For me the three aspects that I take away after reading the book, other than Murakami's style, philosophy, and keen observation of modern life in Tokyo, are the blossoming of love between two young people, the endurance of love between two sisters, and the humdrum of everyday existence. 
While the time line Murakami sketches runs from midnight to dawn, he branches off in different directions and we learn about many aspects of modern Japanese life, including American baseball league,convenience stores,  fast-food restaurants and western pop music (including references to Tower Records). Murakami is known to like American pop music and we notice the eclectic genre of music he keeps track of including Hall and Oates, Pet Shop Boys, and Duke Ellington. I am sure he would have talked about Taylor Swift, One Direction, and Rihanna if the setting for this novel were in this decade.  Another of his specialty is the sparse language. A chapter starts with a few strokes of the brush as follows: "Skylark interior. Fewer customers than before. The student group is gone. "His use of allegorical references is also elegant as in the following: "The new day is almost here, but the old one is still dragging its heavy skirt. Just as ocean water and river water struggle against each other at a river mouth, the old time and the new time clash and blend."
As a post-modernist, Murakami does not hesitate to paint a detailed picture of the seedy side of Tokyo. He takes us to the happenings in the love hotel Alphaville where men take their paid lovers to spend a few hours, but in this instance, also brutalizes a Chinese woman-for-hire. He gives us a few snapshots of Tokyo that is usually missing from the glamor pages, "All kinds of stuff is scattered on the street: aluminum beer cars, a trampled evening newspaper, a crushed cardboard box, plastic bottles, tobacco butts. ... Vomit too. A big dirty cat is sniffing at a garbage bag, intent on securing a share for the cat before the rats can mess up or dawn brings the ferocious flocks of crows."
But he is at his best in describing Eri's sleep, and the manner in which he interweaves the sisters' lives. In the opening scenes, it appears Eri is in a coma, but only gradually do we realize that the sleep might be a metaphor for her state of mind or her consciousness. His eloquence is revealed at various hours in the timeline. To construct an image of Eri's existential station, he treads gently to paint a mystical picture: "Some kind of agency or intent transported her to that other room and sealed her in there as she slept." In contrast, Mari in talking about her sister with Takahashi points to other influences in Eri's life.  "Pills and fortune-telling and dieting: nobody can stop her when it comes to any of those things", but it may be because Mari is disappointed with her sister, because she also complains, "She just didn't have any openings for me. In other words, when I needed her most, she had the least freedom to respond to my need".  Sibling rivalry, one might think! In describing Eri's allergies and other health problems, Mari sarcastically comments, "I've never been sick. In our house, we had the delicate Snow White and the hardy shepherd girl". 
However, the sisters at the end seem to be heading for reconciliation. A spoiler alert! For readers who want to read about the beautiful ending of the tension between the two sisters, I would direct you to Chapters 11 (3:42 AM) and 17 (5:38 AM). After Takahashi asks Mari for a date, she softens and tells him that she is scared to go to China as planned as an exchange student. She also tells him of an incident that reveals the bond between the two sisters. The book is worth reading to catch a glimpse of this magical aspect of this dimension of the story. 
Murakami has become an idol in western literary circles. For the last three years, he has been a favorite to win the Nobel Prize for literature. One critic observes that he "… moves from mesmerizing drama to metaphysical speculation, interweaving time and space as well as memory and perspective into seamless exploration of human agency". Another admiring reviewer, in comparing Kafka and Murakami wrote: 
"There are – of course – many differences and perhaps the main divergence of the two writers is that Kafka doesn't write as touchingly as Murakami; doesn't illustrate the human ache like Murakami can and the reader feels no natural sympathy with Kafka's characters.  Although, this may well be the point, with Kafka – the more existential of the two writers – there are not meant to be any clear 'sides', the reader is not meant to feel an affinity with a character, as this implies trust and the world of The Castle is one where nothing is to be trusted or taken as given, instead everything is shifting and illusory".
The reviewer is a voracious reader and writes frequently for these pages.