Blast inside Pallabi Police Station: Committee formed to determine nature of the bomb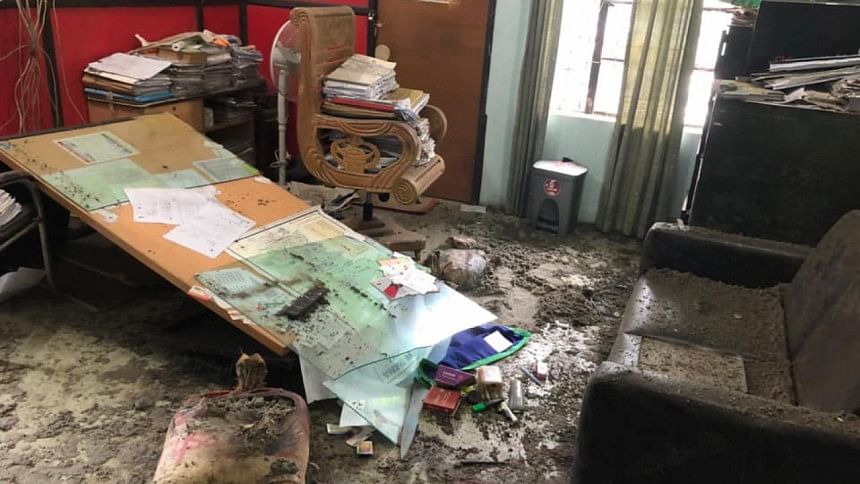 Dhaka Metropolitan Police (DMP) has formed a three-member committee over yesterday's blast inside Pallabi Police Station that left five -- including four policemen -- injured.
The committee, headed by DMP Joint Commissioner (operations) Monir Hossain, has been asked to gather details regarding the bomb blast, determine the nature of the bomb and find its source.
It will also collect details about the handling of the bomb inside the police station compound, and asses the responsibility of the officer concerned and his team.
The two other members of the committee are: Mahmuda Afroz Lucky, additional deputy commissioner (Darussalam zone) of Mirpur Division Police and Rahmatullah Chowdhury, additional deputy commissioner and the in-charge of the bomb disposal unit of Counter Terrorism and Transnational Crime (CTTC).
The committee has been asked to submit its report to DMP Commissioner Shafiqul Islam within three working days.
Amid an existing security alert, a bomb fitted inside a "weighing machine", which police seized during a drive, exploded inside Pallabi Police Station yesterday morning, injuring four policemen and a support staff member.
Police ruled out the involvement of any militant outfit, however, US-based terrorism analysts SITE Intelligence Group, in a tweet last night, said IS claimed credit for the blast.
Police said they raided a place in the Kalshi area and arrested three people after learning about a possible "criminal act" by a gang.
The police team found two pistols, four bullets and something appearing to be a weighing machine in their possession.
Being suspicious as to why the suspects would carry a weighing machine, the officers called DMP's bomb disposal unit. After going there and examining the device, the unit recommended further inspection by a more experienced squad.
But it exploded around 6:00am, before the special team arrived.
Meanwhile, detectives produced the three arrestees before a Dhaka court and sought a 10-day remand for each in two cases filed with Pallabi Police Station yesterday.