BJP leader demands Bangladesh land for 'influx'
BJP leader demands Bangladesh land for 'influx'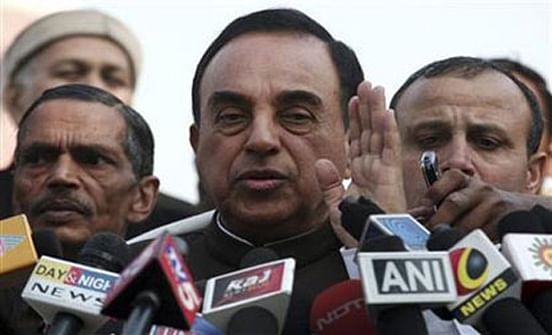 A senior leader of India's Bharataiya Janata Party (BJP) has suggested Bangladesh should compensate India with land for what he said "the influx of its citizens" to the neighbouring country, The Times of India reports.
"If Bangladesh does not agree to take back its people, then the country should compensate by giving land to India," Subramanian Swamy said at Guwahati yesterday.
"I am extremely distressed by the extent of illegal infiltration from Bangladesh. According to my estimate, one-third of Bangladesh's population lives in India," added the BJP leader.
He however said his views on infiltration and land compensation were his own and not his party's, the newspaper reports.
India's secularism would be under threat if infiltration of "a particular religion" is allowed to go on, he said, adding: "We have to be very careful, otherwise our secularism will be threatened."
Taking a dig at Congress, the BJP leader alleged the party has been working for a long time to unite Muslims, while dividing Hindus on caste lines.
"Caste is outdated in modern times and so we are uniting the Hindus. Also there are Shias, Ahmediyas, Bohras and Sufis within Muslims who are moving towards BJP. We want all patriotic Indians to join BJP," Swamy said.
Promising to bring black money back into India from foreign banks, Swamy said BJP's prime ministerial candidate Narendra Modi has the ability of turning around the economy.