Bidyanondo-CMP field hospital to open tomorrow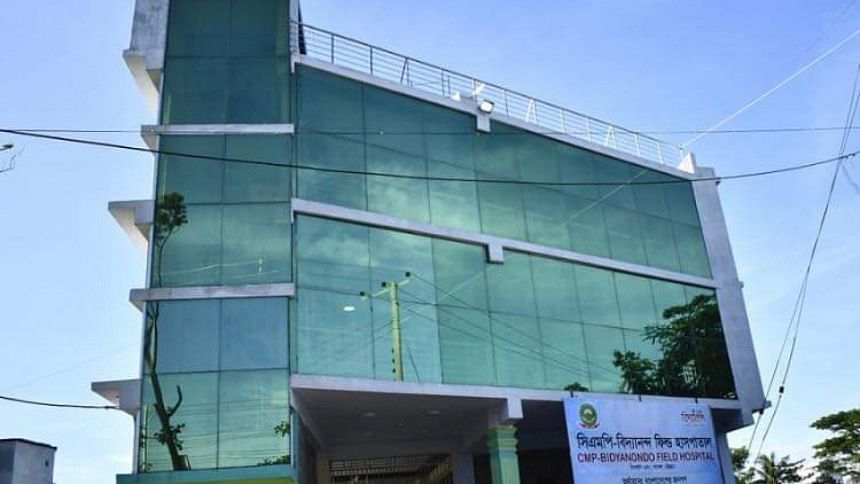 A field hospital -- jointly set up by Bidyanondo Foundation and Chattogram Metropolitan Police -- is going to be inaugurated tomorrow amid increasing number of Covid-19 patients in the port city.
The community centre turned hospital which is located at Patenga will accommodate 100 beds.  
The hospital has readied 50 beds out of 100, with arrangement of high flow nasal cannula, central oxygen system, oxygen concentrator which are of immense necessity to treat Covid-19 patients.
Jamal Uddin, a volunteer of Bidyanondo and also coordinator of the initiative, told The Daily Star that they tried their best to keep their word as they promised to begin offering treatment from July.
"We have readied 50 beds with all arrangement of treatment. The rest of the beds will be readied as soon as possible. We have 12 doctors, 18 nurses to treat the patients. At the same time we will have 50 volunteers to help the doctors and nurses in discharging their duties," he said.
Jamal said in the beginning many said it will be tough to get doctors and nurses for the hospital. But the way the doctors and nurses responded to their call was amazing. This is the strength of Bidyanondo, he said.
A government committee led by Chattogram Divisional Office inspected the preparations and facilities ensured in the hospital on Monday and gave the nod to go ahead.
Mohammed Mizanur Rahman, chief of surveillance committee formed to oversee the treatment of Covid-19 patients, was highly pleased to see the arrangement of the field hospital.
"They did everything by complying with protocol including sitting arrangement, the separate exit and entry point as well as the donning and doffing room for doctors and nurses. Everything was well organised," he said.