Bidyanondo chairperson steps aside amid 'controversy over organisation's name'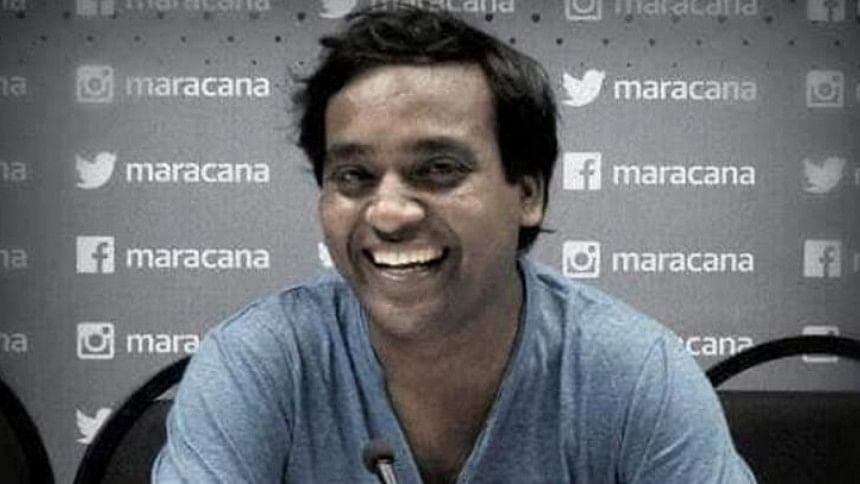 Kishore Kumar Das, founder of Bidyanondo Foundation, today announced that he will no longer remain chairperson of the volunteer organisation.
The announcement came through the official, verified Facebook page of the foundation.
The organisation has been working before the coronavirus pandemic hit Bangladesh, mainly with the aim to provide education to underprivileged children and feeding the underserved through a project titled "Ek takay ahar" (Food at Tk 1).
During the city corporation elections in Dhaka, they also took it upon themselves to remove and reuse campaign posters littering the streets -- providing laminated books and diaries as well as bags to children while reducing the waste problems of the sprawling metropolis.
After the coronavirus situation started unfolding, the foundation was not silent -- rather, it became more active and stood by those who are suffering due to the pandemic.
They started spraying disinfectant in public vehicles and different areas of the city, supplying food for the needy, feeding street dogs and carrying out a multitude of activities that earned them praise from all quarters of society.
However, the good work they did was called into question by certain quarters looking to put a dent in Bidyanondo's reputation -- that too, on baseless grounds like the foundation's seemingly "non-Muslim" sounding name.
Through a Facebook post, Bidyanondo Foundation clarified that the foundation's name was given by a brand expert with the slogan of "Learning with fun".
They tried to change the name of the foundation as some people mistakenly associated the foundation's name with that of a person. But the organisation's volunteers refused to change the name.
Faruque Ahmed Ahmed, the vice-chairman of Bidyanondo, said, "Kishore will not hold the chairperson's post. Our committee did not receive an official resignation paper from the current chief of the foundation as he lives abroad -- once he comes to Bangladesh we will accept his letter"
"However, he will stay with us in the working committee. His position will be changed but he is likely to lead the foundation as an organising secretary," he said, adding that the position doesn't matter much in the organisation as they mostly focus only on their activities.
Kishore Kumar Das, a graduate from Chittagong University of Engineering and Technology (CUET), founded Bidyanondo Foundation in 2013. Currently, he is working at an IT company and living aboard, from where he steered the organisation.
Bidyanondo claimed in their Facebook announcement that Kishore could give little time to the organisation in person and had decided to quit from the chairperson's post last month.