Bidyanondo encouraging vaccination and tree planting at Boi Mela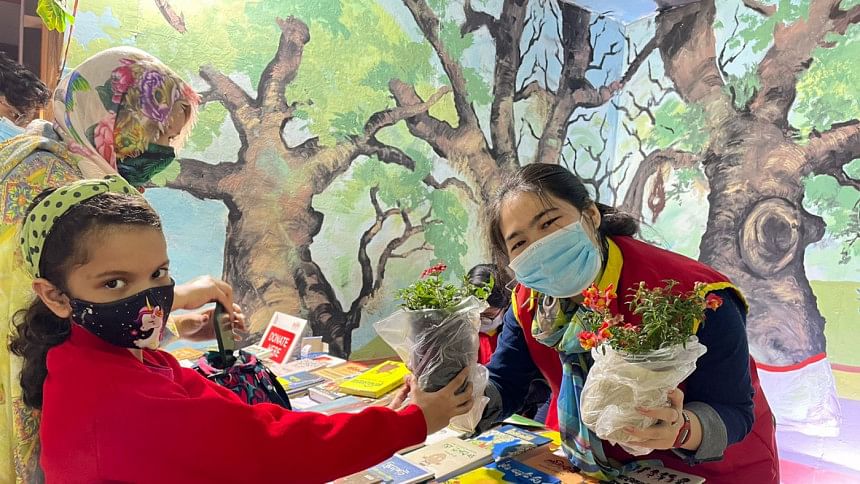 Social welfare organisation Bidyanondo, their name literally deriving from the concept of learning for fun, has its own publishing house that intends to promote good literature and boost readership across all communities. They started an open library in 2013 to provide underprivileged children with free education. 
After some time, they had to close down the library, but they are now working with the same aim under the banner of Bidyanondo Prakashani. The publishers have produced more than 100 books since their establishment and have been participating at the Boi Mela since 2018. "This fair is not only an opportunity to sell books but also a medium to encourage reading", shared Salman Khan Yeasin, the Head of Image and Communication of the organisation. 
Every year, Bidyanondo comes up with unique ideas for their stall. In 2018, they provided free food to street children in exchange for each book purchased. In 2020, the stalls were decorated with recycled plastic waste to spread awareness about food waste. This year, they have worked on two different themes for Dhaka and Chittagong.
For Ekushey Boi Mela taking place in Dhaka, Bidyanondo has decorated their stall highlighting the Covid-19 vaccine . They are encouraging readers and visitors to get vaccinated with the slogan, "Dui Dose Tika Nile, Melay Boi Free te Mile". Under this campaign, double vaccinated visitors will receive a free book with each of their purchases. In order to avail of this one-time offer, they have to show their vaccine card. The set-up is located at stall number 719 of Bangla Academy premises.
Stall number 37 in Chittagong Boi Mela, meanwhile, resembles a forest for a similar awareness-raising initiative. Visitors receive a free sapling with each purchase, thereby promoting environmental consciousness. "We are giving this offer to mainly encourage readers to plant more trees. As of now, we plan to distribute 10 lakh saplings through this initiative", Yeasin said. 
The organisation's other activities include distributing free books to different libraries, including the open and mobile ones. Apart from this, they are providing free books to underprivileged children visiting the fair. 
"The response has been good so far. The overall sale is higher than last year's and our initiatives are being appreciated by readers all over the country", Yeasin shared.
Maisha Islam Monamee likes reading, scribbling, and blogging. Suggest new ideas and follow @monameereads on Instagram.