Bdjobs sells 25pc stake to Australian job portal
Bdjobs sells 25pc stake to Australian job portal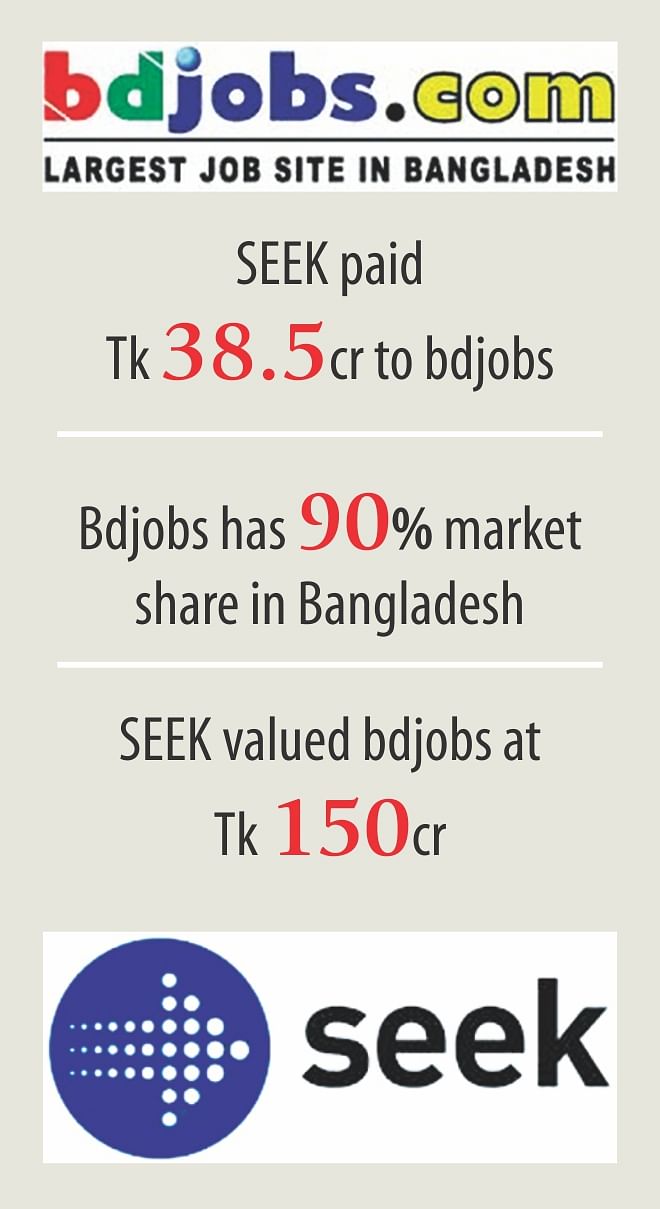 Bdjobs.com, the country's leading online employment marketplace, has sold its 25 percent stake to the Australian number one job portal, SEEK International, at Tk 38.5 crore.
Fahim Mashroor, founder and chief executive officer of the local job portal, confirmed the deal to The Daily Star, and said the deal to transfer the minority shares to SEEK began one year ago and was finalised recently.
"I am delighted that SEEK is investing in bdjobs. SEEK has a deep understanding of online employment marketplaces and a history of working closely with local management teams."
"We believe this partnership will help accelerate bdjobs' growth in the coming years," according to a statement.
Jason Lenga, managing director of SEEK International, said: "Bdjobs is well positioned to benefit from increasing internet penetration as well as economic growth. We look forward to working with the bdjobs team to capitalise on the growth opportunities."
Bdjobs is the leading online employment marketplace in Bangladesh, which SEEK International said has a strong lead in traffic and ad volume metrics and a strong financial track record. Bdjobs has 90 percent market share in Bangladesh.
Mashroor said the main attraction to SEEK International purchasing the minority shares of bdjobs is its high profitability and market shares.
SEEK has valued bdjobs at Tk 150 crore, which may be the highest for any local IT firm.
Bdjobs made a profit of Tk 6.93 crore last year. Its revenue stood at Tk 13.86 crore in the same year, the Australian company said in a statement.
Mashroor, a director of Bangladesh Association of Software and Information Services (BASIS), will remain the largest shareholder in the business post-transaction after selling down his stake to give SEEK its interest in the business.
SEEK is a $5.5 billion company that reaches a third of the world population, he said.
Following the investment, SEEK will have representation on the board in proportion to its shareholding, hold typical minority shareholder protections and will account for bdjobs as an associate. The investment will be funded via SEEK's cash reserves.
Mashroor founded the job portal in 2000 with an investment of Tk 15 lakh only. The company has around 100 employees.
According to the website of SEEK, the company is operating in twelve countries including Australia, New Zealand, China, Brazil, Mexico, West Africa, Nigeria, Hong Kong, Indonesia, the Philippines, Singapore and Thailand.
Founded in Melbourne in 1997, it currently employs over 6,000 people globally.
The deal is in line with SEEK chief executive Andrew Bassat's push to generate well over 50 percent of earnings from offshore operations in coming years. In March the company paid $580 million to acquire online Asian employment business JobStreet, according to The Australian newspaper.
Bangladesh's IT sector is increasingly becoming an attraction for global companies.
Last year, global IT firm Accenture bought 51 percent stake in GPIT, an IT wing of the country's top mobile operator Grameenphone, at $10 million.