Militants have no capacity to attack now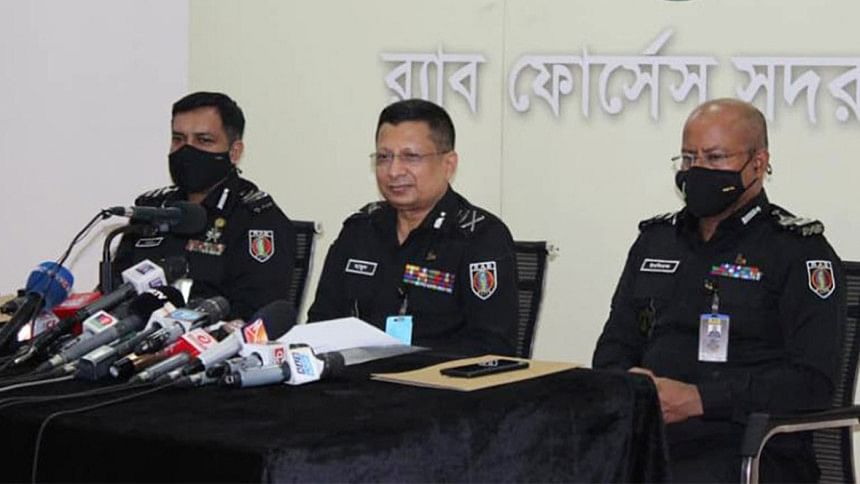 Militants are not capable of carrying out any major subversive attack in the country at this moment, Rab Director General Chowdhury Abdullah Al Mamun has said.
"We are one step ahead of militants and that's why there is no violence by militants in the country now. We are taking actions before any major incident could occur," he said.
The chief of Rapid Action Battalion was speaking to reporters at the Rab headquarters yesterday about the current law and order in the country.
He said the Rab were monitoring militant activities in the cyber world and whenever they get information through this monitoring, they arrest militants and bring them to book.
Since the Holey Artisan Bakery attack in the capital's Gulshan on July 1, 2016, the Rab has arrested around 1,500 militants in last five years. Besides, 16 militants were rehabilitated after their surrender, said Mamun.
At least 20 local and foreign nationals were killed in the militant attack in 2016. Two police officials were also killed during an operation there.
Asked if there were any links between foreign and local militant outfits, Mamun said they didn't have any information regarding communication with foreign militants. "The militants that we have in our country are home grown."
About Rab's capability of dealing with any possible militant attack, the Rab DG said, "We do not think that militants have that capacity now. But we do not become complacent. We are constantly increasing our capacity and technological capabilities. We are ready to face any situation."
Talking about narcotics, he said the Rab were keeping an eye on it through intelligence surveillance and cyber patrolling.
Responding to a question about the progress in the investigation into the murder of journalist couple Sagar Sarwar and Mehrun Runi, the elite force chief said, "We are investigating the case with due seriousness. We will submit the report once investigation is completed."
The couple was murdered inside their apartment in the capital's Raja Bazar on February 11, 2012.
About juvenile gangs, the Rab DG said juvenile delinquency is increasing alarmingly now.
"They [juvenile gangs] are also involved in violent and brutal crimes like murder. In order to save the next generation, it is necessary to pull in the reins on the 'teenage gang' culture now."
He said the Rab has launched a vigorous campaign against "Kishore Gang".
"We expect families to pay more attention to their children. Besides, the society has to come forward. The patrons who are leading teenagers into gang culture will not be spared."
Mamun expressed special gratitude to doctors, nurses, journalists, law enforcers, public representatives and other professionals who have been working for the country and humanity since the Covid-19 outbreak in the country.
He said mobile courts are being operated against various irregularities, including marketing of adulterated products and increase in prices of commodities.
"Over the last one year, we have been conducting campaigns on using masks, hand sanitisers, illegal health safety kits, and fake test reports," he added.
In addition to maintaining law and order during the pandemic, the Rab has gained people's trust and love through providing food to the unemployed, helpless and destitute people, distributing health safety equipment, and offering emergency services to patients, the Rab DG told reporters.