Shakib puts Tigers on top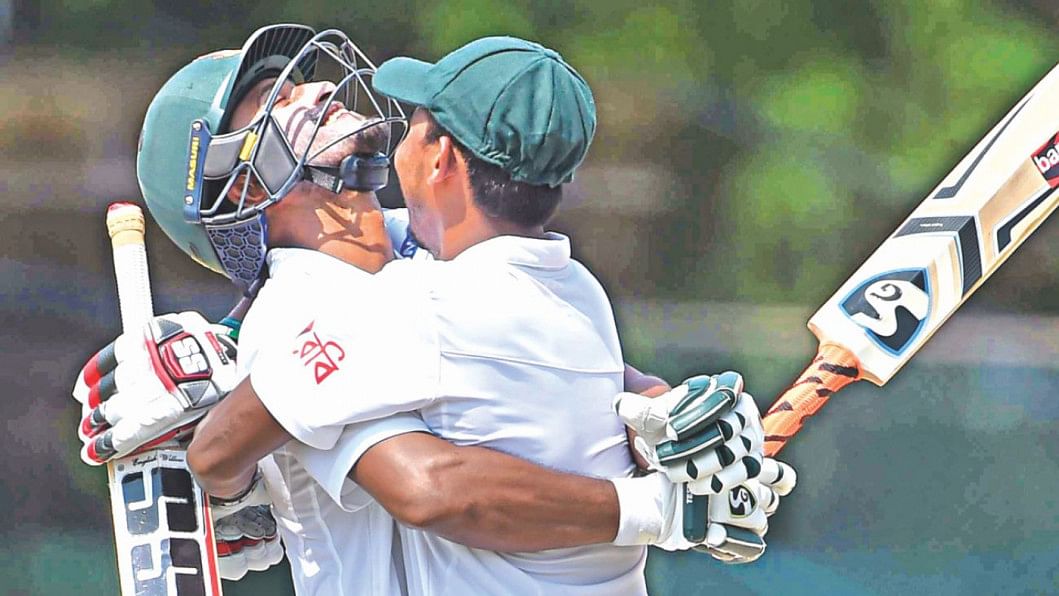 Call it resiliency or a perverse desire to prove naysayers wrong, but Bangladesh have made it a habit of turning in a stellar performance when their fans or critics least expect it. They did it on the first day of their 100th Test match at the P Sara Oval in Colombo after a 259-run thrashing less than a week ago in Galle, and they did it in even more spectacular fashion on the third day yesterday.
It was apt that the player who exemplifies the aforementioned qualities, Shakib Al Hasan, was one of the main actors in Bangladesh's revival with his fifth Test century.
After ending the second day with a spell of play that produced three wickets for six runs in seven balls, followed by batting from Shakib that could only be described as reckless as Bangladesh went to the close 124 runs behind and with five wickets in hand, the visitors ended the third day with a lead of 75, although Sri Lanka finished without loss with 52 runs on the board in 13 overs.
There was time enough for Dimuth Karunaratne to be dropped by skipper Mushfiqur Rahim off Subashis Roy off a difficult chance down the leg side, but it could not take much of the gloss off a wearing pitch and their position in the match.
Before that, Shakib's century and a 75 on debut from Mosaddek Hossain carried Bangladesh to 467, a first-innings lead of 129, before Mosaddek's wild heave missed the mark and he was stumped to become Sri Lanka skipper Rangana Herath's 1,001st first-class wicket in the 135th over. Herath earlier became the 12th bowler from the subcontinent to reach the 1,000 first-class wicket landmark by getting Mustafizur Rahman leg-before in the 129th over.
In the morning, Shakib batted the way he should have on the previous evening and skipper Mushfiqur Rahim was his usual responsible self as the pair put on 92 runs for the sixth wicket, taking Bangladesh to 290 for five.
Mushfiqur played some attractive shots once he settled in, with some eye-catching off drives off Suranga Lakmal that would have made it to the fence if not for an outfield made sluggish by rain on the previous three evenings. But there was no stopping the ball when, in the 70th over, Mushfiqur timed a cover drive to perfection to hit his first boundary off the 38th ball he faced. In the same over he whipped a reverse swinging delivery to the midwicket fence.
But it was conventional swing from Sri Lanka's solitary pacer that did for Mushfiqur when a pitched up inswinger with the new ball took a slight deflection of the inside edge and cannoned into the sumps in the 82nd over to be out for 52 off 81 balls. 
Shakib got his second life -- having been dropped on eight by Tharanga the previous evening – when a wayward throw by Dinesh Chandimal allowed the left-hander to dive home after a mix-up with Mushfiqur in the 77th over. He was on 40 at that point.
With debutant Mosaddek, who showed his readiness for the task at hand with a beautiful lofted six off Herath  over long off in the 87th over, Shakib took Bangladesh to lunch 22 runs short of Sri Lanka's first innings on 316 for six after 88 overs. 
After lunch Mosaddek played a delectable cover drive off Lakmal in the 92nd over and the partnership began to blossom, with Shakib nurdling the ball around and Mosaddek looking comfortable. Two overs later, a Mosaddek jab past midwicket for four off Lakmal took Bangladesh into the lead, and it was immediately followed by a thick edge that ran away to the third man boundary.
Shakib was looking to up the rate by then, chancing his arm when given width by the spinners, and was fortunate to get a third reprieve when he bottom-edged a Herath delivery in the 96th over and keeper Niroshan Dickwella dropped a difficult, low chance. 
He reached his century with a swept four -- a feature of his innings along with the slashed cut -- off his 147th ball in the 112th over off Sandakan, and that brought the Bangladeshi dressing room to its feet. The team was in some turmoil with selection decisions behind the scenes, and Shakib's innings proved the tonic that was needed. No smile was as broad as skipper Mushfiqur Rahim as all were united in applauding the effort from the boundary.
Having ended the third day on a good note, Bangladesh will hope that they do not succumb to the tendency of alternating between good and bad days. If they can do that, a special result worthy of their 100th Test match awaits.