A dual challenge for Mashrafe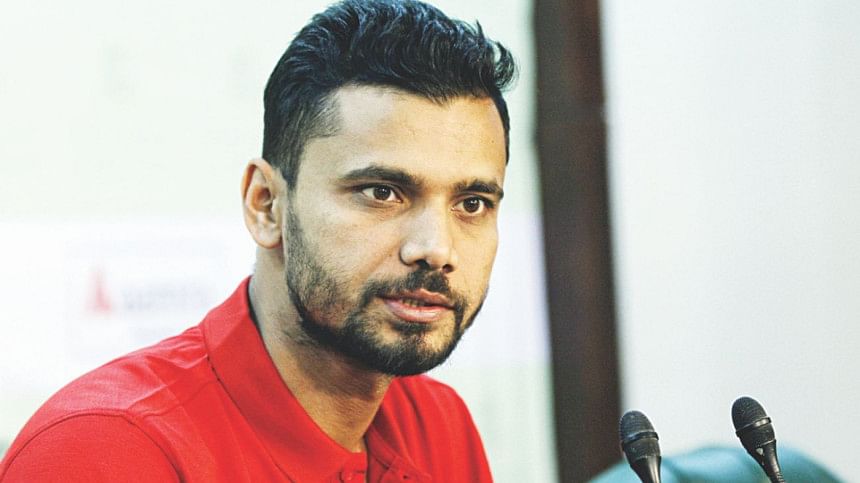 When Bangladesh ODI skipper Mashrafe Bin Mortaza departs with his team for two tough battles, will it be like any another challenge for the inspirational leader to overcome on the field, or will it be more than that?
Mashrafe adopted a guarded approach while talking to the media in Mirpur about the Tigers' chances and challenges in the upcoming tri-series in Ireland and the ICC Champions Trophy on the eve of their departure for England yesterday.
He was practical while pointing out the difficulties in the demanding conditions and against tough opponents in Ireland and England but also expressed his confidence; a trademark trait of the man from Narail. And there was no change in posture when his attention was drawn to his personal challenges in the coming tours.
"Personally I don't have any target as a captain and there is no point taking pressure. I have to move from this place at some point of time as well," was the simple reply from Bangladesh's most successful limited-overs skipper, who had made a dramatic announcement regarding his retirement from T20I cricket during the recently concluded Sri Lanka tour, which brought a kind of tension in the team regarding the positions of the senior cricketers.
It is believed by most that no one can be more suitable than Mashrafe Bin Mortaza to lead the team in the ICC World Cup in 2019 in England if he is fit and in form, but his retirement from T20Is made it clear that things are not as straightforward as people believe; instead he was apparently walking on thin ice.
After the much-talked about retirement Mashrafe said time and again that he has been enjoying ODI cricket and he wants to continue in the format. But he knows very well that if anything goes wrong in one or two matches there will be whispers in his ear asking him to think about his ODI career.
The last tour in Sri Lanka has significance in many aspects; it was not only because Bangladesh had tremendous achievements in all three formats but also for the off-field controversies that punctuated the tour, especially the case of Mahmudullah Riyad.
Many have forecast that like in Sri Lanka, much will happen off the field during the coming tours of Ireland and England that will stretch to more than a month and a half.
Whether it is admitted or not, circumstances played a big part behind Mashrafe's decision to call it a day from T20Is and all those factors have not magically vanished with his T20I career. So it will not only be a challenge for Mashrafe to lead the team in the new assignments successfully but also to ensure his share of the dividends.