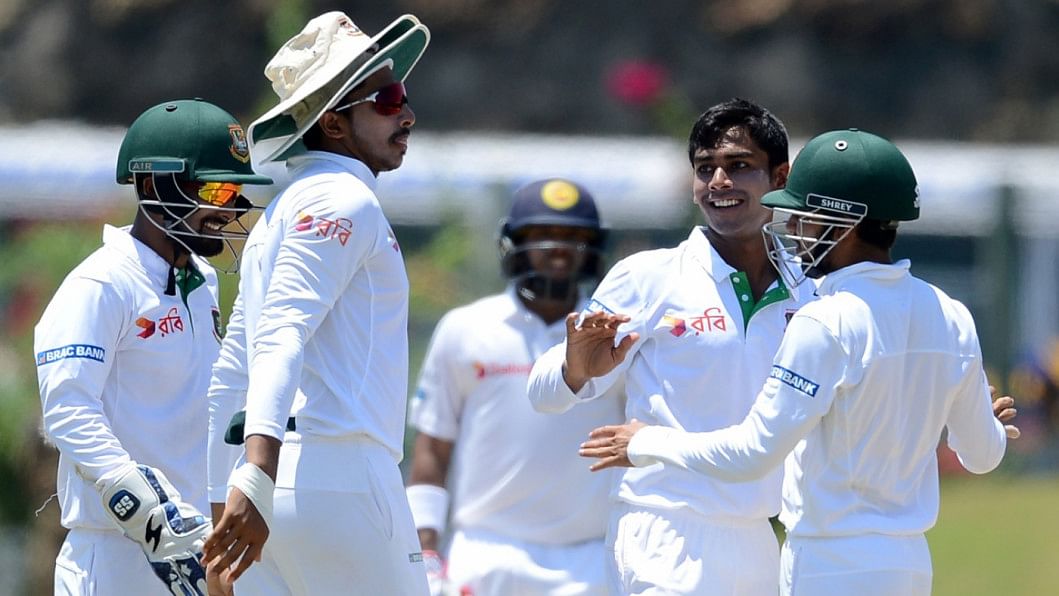 Lines out to get Subashis
In the sixth over of the first day Subashis Roy had prematurely rejoiced at picking up Kusal Mendis's wicket first ball, only for the eventual centurion to be recalled after replays showed that Subashis had overstepped the line. In the seventh over of the second day, Subashis was again celebrating what he thought was Mendis's wicket, only to be let down again. A top-edged hook went to fine leg and Mustafizur Rahman caught it, but had no awareness that he stepped on the rope at the same time the ball nestled in his hands. Subashis's premature celebration came to an abrupt halt when he saw the dejection on his teammates' faces and, more importantly, the umpire signalling six.
Tamim shows how it's done
Mendis, he of three lives and nearing a maiden double-century, seemed determined to test his luck to the limit. In the 104th over he stepped out to Mehedi Hasan Miraz but the drift away ensured that he did not middle it. Perhaps Mustafizur's gaffe was fresh in everyone's minds, and Tamim showed just how to handle catches like that and he did it almost nonchalantly. He ran back, took the catch inside the boundary and tossed it up, before stepping back over the line to reverse the momentum and complete a fine catch.
And how it's not done
Having displayed immense calm in taking that catch and also substantial cool to reach 57 in Bangladesh's reply, Tamim produced the most hare-brained moment of the day, which is saying something. A leg-side ball from left-arm chinaman bowler Lakshan Sandakan appeared to clip Tamim's pad on the way through to the keeper, who went up in appeal for a caught behind. Umpire Aleem Dar could not be swayed, but Tamim was already out as he inexplicably ran down the pitch and Niroshan Dickwella was only too happy to whip the bails off. The best guess doing the rounds is that Tamim thought the ball had gone past the keeper, but on a day of gifts he may have wanted to thank the keeper for dropping him on 28.
Hathuru's Bangla turn
When Hathurusingha, the prodigal son, returned to his native land in charge of the opposition and faced up to the press at the post-day press conference yesterday, the Sri Lanka media manager (who runs the pressers for both teams) asked for questions in English first, which meant that questions in Sinhalese would follow. It seemed a bit odd that a Bangladesh coach would be answering questions in a language that the Bangladeshi scribes would not understand.
When the English questions ended, it was asked whether Hathurusingha would mind questions in Sinhalese, and he agreed. When no more questions were forthcoming, the media manager jokingly asked whether he knew any Bangla, to which Hathurusingha said 'a few words'. Then, before he got up, he said 'Dhonnobaad' with a mischievous smile. At least we know where his allegiances lie as long as he is wearing a Bangladesh jersey.