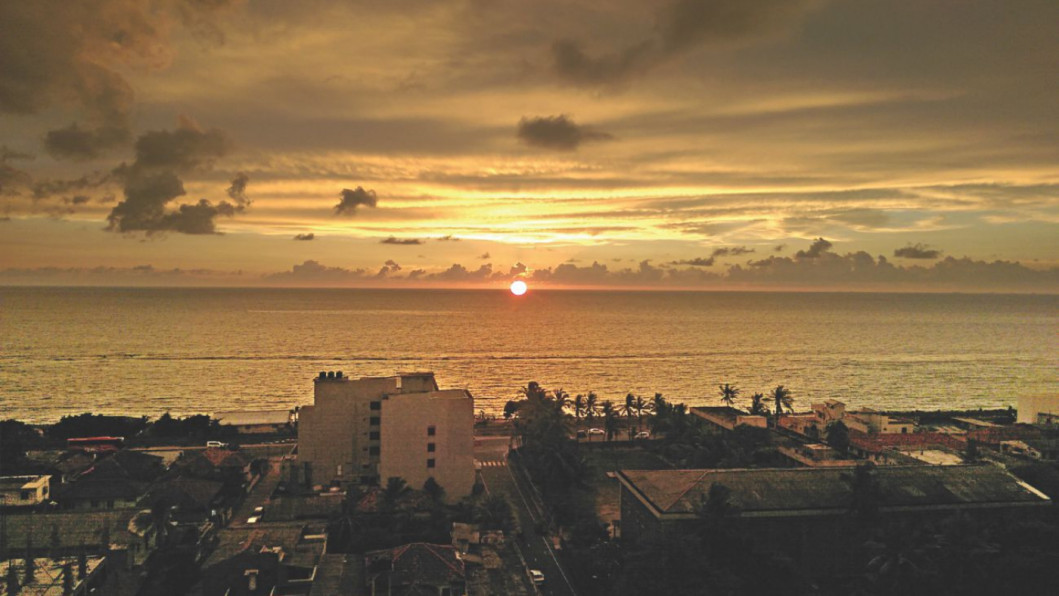 GALLE FAREWELL
With a heavy heart and a last backward glance at the majestic ramparts of the Galle Fort and the blue expanse of the Indian Ocean beyond, the Bangladesh media contingent in Sri Lanka bade farewell to the capital of Sri Lanka's Southern Province.
Heavy of heart because, as you may have read on these pages a few days back, Galle and especially the fort area is like a time capsule and leaving the seaside town, you are reminded that you are travelling back to the harsher world.
The sea is a constant companion in Galle. Whether you are dining (unexpectedly cheap for the quality of ambience) at the Old Dutch Hospital's 'Minute by Tuk Tuk' restaurant -- where you can see and hear the waves crashing on the rocky shores -- or walking along Rampart Street to take in the sunset.
Cox's Bazar's untamed beauty is special in its own way, but the sealine in Sri Lanka is an eye-pleasing blue as the rocky shoreline allows the water it to retain its clarity.
You can almost imagine the Dutch building, the formidable ramparts and, to go to a darker place, the suffering of the workers who toiled under the whip of colonial oppression. But even that, perhaps because of how far removed in time we are, did not take away from the pleasures of Galle.
FROM MARINE DRIVE, WITH THE SUNSET
The melancholy, however, cannot last long when you are travelling along Sri Lanka's coast. Even though it may jar you a bit to see the man standing in front of the bus at the Galle Bus fluently communicate with you in English, you will get used to it after a ridiculously cheap near-Green Line standard journey to Colombo where even the Tuk Tuk drivers at the Maharagama bus stand -- Sri Lanka's equivalent of the Arambagh bus stand -- understand everything you say and take you to your destination.
Before that, the expressway -- with regular exits and flyovers eliminating highway traffic jams -- that got you in Colombo in just one-and-a-half hours will make you wonder why this is not possible in Bangladesh.
The sea is also here in Colombo, but it is a city, whereas Galle was a small, seaside town. While cars slowed to a stop whenever you stepped on a zebra crossing (Dhakaites look it up, motorists and pedestrians alike) in Galle, pedestrians have to wait in front of one till a car decides to stop in Colombo. They still wait.
And Marine Drive. Even from a hotel that is a few blocks inland from the long stretch of road that runs along the western coast, the immensity of the ocean is visible from the rooftop in such a way that you can actually discern the Earth's curvature. As this report is filed the sun has half sunk into the sea on the horizon -- the distractions a touring sports journalist must face!