BHF names 18-man squad as team beat Ghana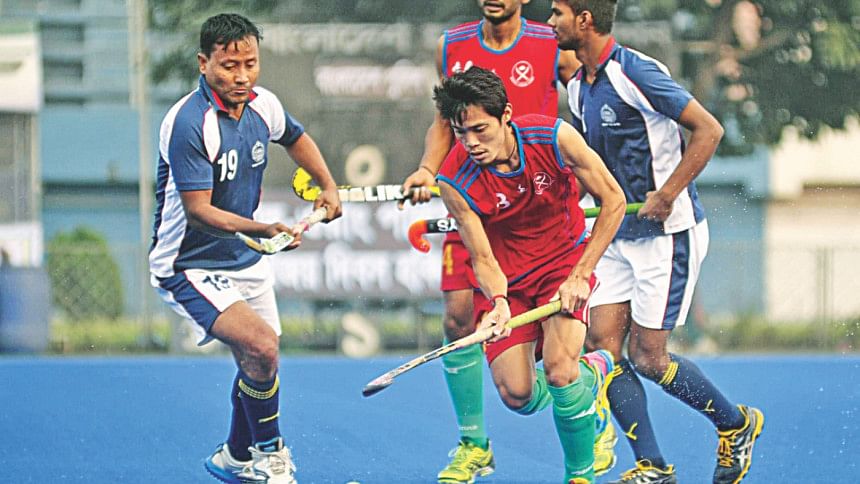 Bangladesh beat Ghana 1-0 in the third and final preparation match yesterday as the game's governing body shored up preparations for hosting the Hockey World League (Round 2) to be held in Dhaka from March 4 to 12.
Having lost the first match 2-0, the hosts drew 2-2 in the second match before finally winning against the African side, who are six places below Bangladesh in the international rankings.
"The players were a bit confused with the different strategies I tried during the warm-up matches. But they played better than the previous games today even though I don't feel three matches is enough preparation for us," Bangladesh coach Oliver Kurtz said yesterday. "We want to take the games of the Hockey World League one by one. Our first target is to finish second in the pool, and then we will try to win the quarterfinal and semifinal."
A total of eight teams, split into two pools, will compete in the league for the two places up for grabs in the third round, alternately called the semifinal round, to be played in England later this year.
Bangladesh are in Pool A alongside Malaysia, Oman and Fiji while Pool B features China, Egypt and Ghana.
Bangladesh Hockey Federation's general secretary Khaza Rahmatullah, meanwhile, informed at a press conference that the preparations to host the biggest hockey event in the country were in full swing, with security given highest preference.
"You know Japan had earlier pulled out of a tournament here. Canada have pulled out from this event. So we have tried to ensure highest security to the teams this time. Two members of the International Hockey Federation (FIH) are already in Dhaka in this regard," Rahmatullah said, adding that Malaysia and Oman had already arrived while the rest of the teams are expected to arrive by tomorrow.
The BHF general secretary also informed that sponsors FMC Group and Index Group would provide a budget of around Tk one crore for the event with the expenses regarding the Bangladesh team's preparation, all the teams' security and transportation,  and all the expenses of the technical officials being borne from this budget.
The representative of ATN Bangla, the media partners of this event, informed that seven matches of the league would be telecast live on the channel.
The press conference was attended by the representatives of FMC Group and Index Group and BHF officials among others.
Later in the day, the BHF announced an 18-member squad for event, with veteran forward Rassel Mahmud Jimmy as captain.
Squad
Asim Gope, Zahid Hossain, Mamunur Rahman Chayan, Khorshedur Rahman, Ashraful Islam, Shitul Ahmed, Rezaul Karim Babu, Imran Hasan Puntu, Sarwar Hossain, Kamruzzaman Rana, Nayeem Uddin, Krishna Kumar Das, Mahbub Hossain, Rassel Mahmud Jimmy (C), Arshad Hossain, Milon Hossain, Moinul Islam Koushik, Roman Sarkar