BD female hockey champs exemplify Special Olympics ideal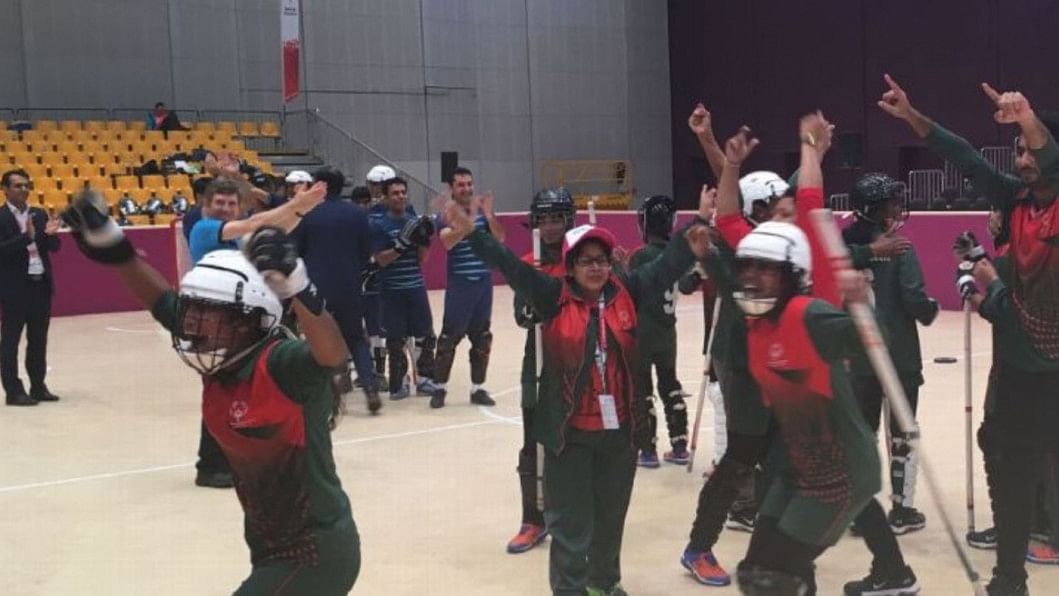 The people back home would have to wait to hear the biggest news of their children's lives and that of their families, though it was possible the shrieks and cries from pure joy and utter exhaustion may have traveled all the way from Austria to Bangladesh.
They would have to wait, because for most of them there are no phones, no televisions, no access to the internet. There is also no measure of comparison to grasp what their daughters and sisters -- the first all-female floor hockey team in the country's Special Olympics history and one of only two at the World Games -- had done Thursday night in winning a gold medal.
After 3 hours, 9 minutes of play -- three nine-minute regulation periods and a Special Olympics-record 18 overtimes -- officials called the 0-0 game a draw in the interest of the safety and health of its participants and awarded both Bangladesh and their male opponents from Iran the gold medal in their unified division. (On unified teams, intellectually disabled athletes team up with non-disabled players, who are called partners.)
To the uninitiated, the ferocity of a game played with sticks and a doughnut-like puck is no doubt hard to grasp. But then, this is perhaps fitting given the other circumstances involved.
The Bangladesh team was made up of teenage girls such as unified partner Ruma Khanom, who is 16 years old, stands 5 feet tall and weighs 92 pounds. Asked if she was surprised her team was able to stand up to bigger and stronger all-male teams, including the Iranians, who were in some cases taller by a foot or more and twice as heavy, Khanom offered the universal "Nah."
But how, she was asked? How did they do it?
"Self-confidence," she said through an interpreter.
Religious and social barriers in Bangladesh allow women to be empowered only so much. But sports help ease those boundaries, and Special Olympics has filled the gap for Khanom and her teammates even further by choosing a national male and female team and having them train together.
It helps also that Bangladesh Prime Minister Hasina Wajed is a woman who supports Special Olympics, which began there in 1993.
"Special Olympics is able to break the barriers. It is the power of the Special Olympics," said Rahman Mohammad Hutizur, director of the Bangladesh Healthy Athletes program.
These are not girls who were just making their first trip on an airplane, but rather girls who were seeing an airport for the first time. They were girls from poverty-stricken homes where just getting the parents' required signatures on their children's visa forms was a challenge because some of them never learned to write, Hutizur said.
While the wealthy parents of children with intellectual disabilities in the country tend to eschew Special Olympics for their "own schools," according to Hutizur, the girls on this team wore shoes given to them by the Special Olympics' Healthy Athletes program, which also provides the only medical care they receive.
To call the World Games a wonderful opportunity for the Bangladesh team is selling it short. For many, it was the first time they had ever glimpsed a person from another country.
"Special Olympics brings a light to their families," Hutizur said.
Sadia Akhter Urmi, 18, comes from a family of farmers earning a monthly income of less than $40. She was introduced to Special Olympics in 2009 -- her younger brother also has intellectual disabilities -- and through Healthy Athletes she was found to be severely anemic because of poor nutrition. It also was learned that she had a hearing loss.
Where she once lacked the strength to stand for very long, she careened around the court with her teammates Thursday night, the 5-foot-3, 114-pound teenager bouncing off her male opponents, wrestling for the puck and, when necessary, skirting the rules that prohibit outright checking.
"I can play more hours and it doesn't matter," said the same girl who once stuttered so badly that her name was the most anyone heard her utter.
"The first day, I thought, 'How can we play?' And the girls were scared," Hutizur said. "But we made them understand the power is in your brain, the power is in your technique. It is not in your muscle."
Just the same, it took more than incredible speed for the girls from Bangladesh to battle the Iranians for more than three hours.
"When we left our country, everybody gave us courage that we will uphold the flag, our pride and the national anthem of our country," said unified partner Ivy Aktar Orin, 15.
The prime minister will hold a reception for the gold-medal winning women and their silver-medal winning male compatriots, who lost to Uganda on an adjoining court just minutes after the women's game concluded.
As the men wept on their sideline, the victorious women held their heads and patted their backs.
"The boys make us stronger," Urmi said.
"I feel very sad," said Ratul Ahmed Onik, a partner on the men's Bangladesh team, "but we're all together and we all have pride, and all of Bangladesh wins tonight."