Proposed budget implementable: Muhith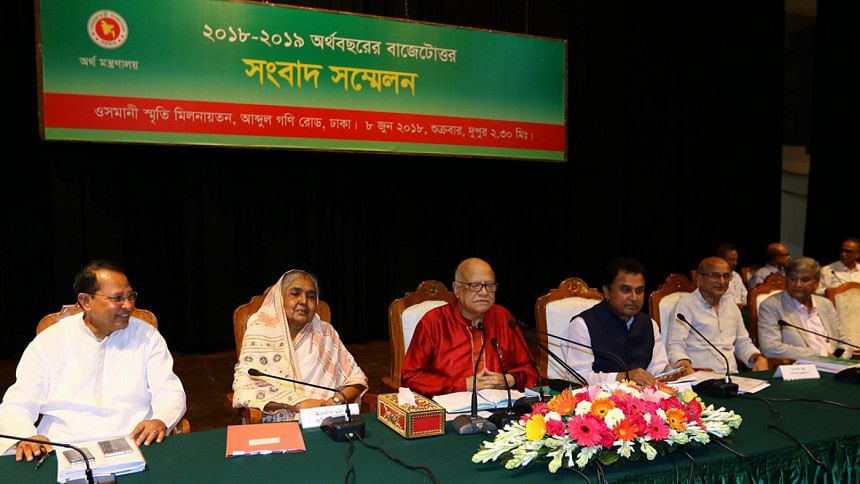 Finance Minister AMA Muhith said today an implementable budget has been proposed for the next fiscal year.
"When we propose a budget, we do not do it without thinking whether it will be possible to achieve the target," he told reporters at a post-budget media briefing at the Osmani Memorial Auditorium in Dhaka.
"We face shortfall every year, but this year it has come down compared to previous year," he said.
The minister also termed the proposed budget as an election-oriented one.
"Every budget is election-oriented as we propose such budget which would be liked by people. This is not only for the election year but also for every year," he said.    
Referring to the government's move to lower corporate tax rate for banks, insurance and financial institutions by 2.5 percent in the proposed budget, the minister said banking sector has been given such facility in a bid to bring down interest rate on loans to single digit.
The government made the decision following several high level meetings before the budget was announced, the minister said in reply to a query.
"The decision did not come suddenly. We have thought for it for several days," he said.  
Replying to another query, the minister said that discrimination between poor and rich people has not increased across the country.
The percentage of poor people is not increasing, obviously it is decreasing, he said, mentioning that the percentage of poor people in the population has come down to 22.4 percent from 30 percent in last seven years.
He raised question how the journalists could say that the proposed budget has discriminated between the poor and rich.      
The finance minister at the Jatiya Sangsad yesterday rolled out a Tk 4,64,573 crore national budget for fiscal year 2018-19, setting the GDP growth target at 7.8 percent.
However, economic analysts have opined that the proposed budget for the next fiscal year is unrealistic as it lacks significant structural and policy changes.