Nationwide shutdown: Around hundred RMG factories opened ignoring BGMEA's call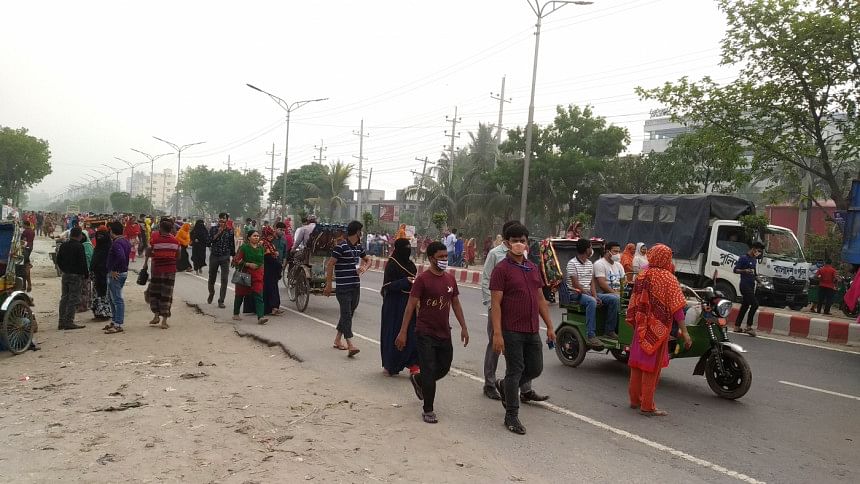 Amid concerns over the spread of coronavirus, around one hundred readymade garment factories were opened in Savar and Ashulia area of Gazipur ignoring the call of Bangladesh Garment Manufacturers and Exporters Association (BGMEA).
Last night, Rubana Huq, president of BGMEA, requested all factory owners to keep their units closed until April 11 during the government shutdown to help stem the spread of coronavirus.
But ignoring her call, over 100 factories in Savar and Ashulia have started operation. Most of the factories started production from today, our Savar correspondent reports quoting industrial police.
Thousands of workers, who had left their workplace and gone home after the government announced the shutdown from March 26, returned to their workplace yesterday following instructions of their employers.
Visiting different factories this morning, our Savar correspondent found that workers were entering the factories without maintaining physical distancing, raising health concerns.
Workers say they have joined work as they were fearful of losing jobs and were hoping to get salary. They, however, said the factories are taking safety measures to avoid coronavirus threats.
Meanwhile, wishing anonymity a worker of DBL Group in Kashimpur of Gazipur, told The Daily Star that around 30,000 employees are working in the factories.  
Regarding the opening of the factory, Azizur Rahman, administrative officer of Winter Dress Limited, said, "We are trying to keep the workers in the factory the same way we try to remain at home."
"Most of the work orders have been cancelled. There are a couple of purchase orders. So we have kept the factory open. Later, the factory will be closed following the instruction," he said.
Khairul Islam Mintu, general secretary of the Garment Workers Trade Union, said that everything in Bangladesh has been shut thanks to the coronavirus pandemic. In this situation, the owners have not taken the right decision by keeping the factories open.
Contacted, Abdus Sobahan, general manager of Dhaka Export Processing Zone (DEPZ), said around 50 factories out of total 100 under DEPZ are now operating. Most of the factories have been opened for emergency shipments and payment of workers, he added.
Sana Shaminur Rahman, superintendent of Dhaka Industrial Police-1, said that around 100 factories are operating in Savar and Ashulia areas. "We are raising awareness among them to maintain physical distancing."