ICC Champions Trophy Warm-up Match
Tigers falter as Pakistan seize victory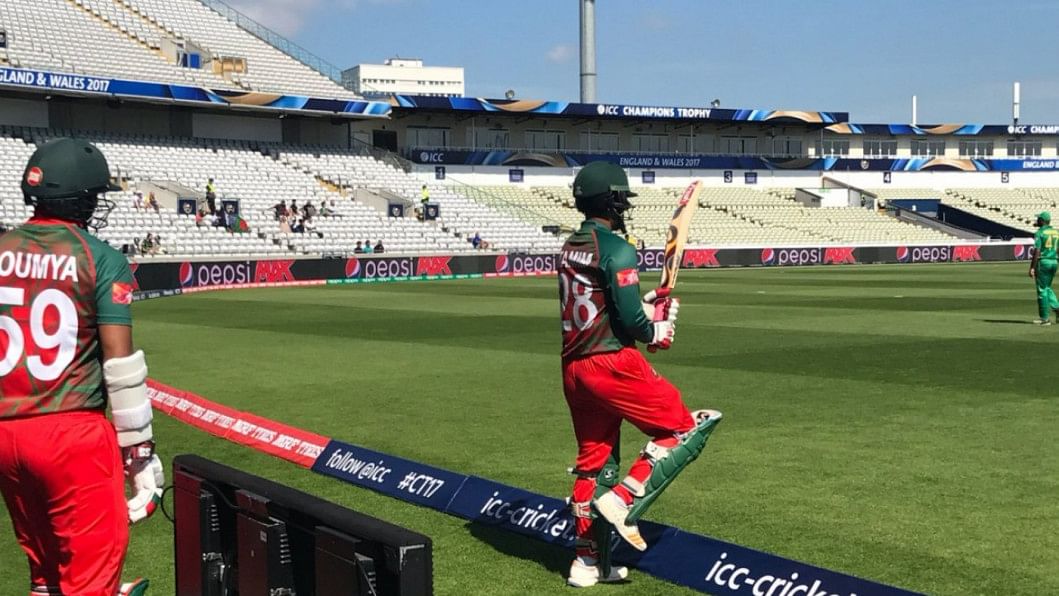 Pakistan gained an unlikely victory against Bangladesh by two wickets after a late storm from the bat of Fahim Ashraf saw Pakistan edge the match in the ICC Champions Trophy Warm-up Match played at Edgbaston, Birmingham.
After scoring a massive 341 for nine in the ICC Champions Trophy warm-up match against Pakistan at Birmingham, Bangladesh were firmly in control of the game as Taskin Ahmed, Mashrafe Bin Mortaza, Shakib Al Hasan, Shafiul Islam and Mosaddek Hossain pick up a wicket apiece to keep Pakistan to 252 for eight with just under 10 overs remaining. Pakistan needed 90 runs with two wickets and 43 balls remaining.
However Fahim, who came in to bat at no.9 took the game to the Bangladesh bowlers. He smashed a 30-ball 64 while at the other end a no.10 batsman Hasan Ali scored 27 off 15 balls. The ninth-wicket partnership between Fahim and Hasan took Pakistan to victory with three balls to spare.
Last bat Imad Wasim c Mosaddek Hossain b Mehedi Hasan Miraz 45 (69m 50b 4x4 0x6) SR: 90.00
Fall of wicket 249/8
Imad Wasim is sent back by Mehedi and Bangladesh look to have the game in the bag.
Shadab Khan run out 7 (14m 10b 1x4 0x6) SR: 70.00
Fall of wicket 242/7
Shadab Khan was run out for just seven as Pakistan's chances diminish.
Last bat Sarfraz Ahmed c Sanjamul Islam b Mosaddek Hossain 5 (12m, 8b, 1x4, 0x6)
Fall of wicket 168/5 (28.2 overs)
Mohammad Hafeez was batting well on 49, but pacer Shafiul Islam had him caught by Imrul Kayes one short of a half-century to worsen Pakistan's woes.
Last bat Mohammad Hafeez c Imrul Kayes b Shafiul Islam 49 (95m, 62b, 6x4, 0x6)
Fall of wicket 157 for 4 (25.6 overs)
After being brought down to 19 for two courtesy of early wickets by Taskin Ahmed and Mashrafe Bin Mortaza, Pakistan threatened briefly with a 59-run third-wicket partnership in just 9.5 overs between Ahmed Shehzad and Mohammad Hafeez. However, Shakib Al Hasan used his wiles to bowl Shehzad for 44.
Last bat Ahmed Shehzad b Shakib Al Hasan 44 (67m, 40b, 5x4, 1x6)
Fall of wicket 78/3 (13.3 overs)
Skipper Mashrafe Bin Mortaza took the second wicket to fall, inducing Babar Azam to nick behind
Last bat Babar Azam c Mushfiqur Rahim b Taskin Ahmed 1 (6m, 3b, 0x4, 0x6)
Fall of wicket 19/2 (4.2 overs)
Fast bowler Taskin Ahmed, who was not picked for the entirety of the just-concluded tri-series in Ireland, took the opening wicket by having Azhar Ali caught behind for eight. 
Last bat Azhar Ali c Mushfiqur Rahim b Taskin Ahmed 8 (19m, 14b 1x4, 0x6)
Fall of wicket 14/1 (3.2 overs)
Mehedi Hasan is last Bangladesh wicket to fall as Bangladesh score 341 for the loss of nine wickets off 50 overs.
Last bat Mehedi Hasan Miraz run out 13 (32m 16b 0x4 0x6) SR: 81.25
Fall of wicket 341/9 (49.6 ov); Partnership: 3 runs, 0.2 overs, RR: 9.00
Mashrafe is the last batsman to fall as Bangladesh stand at 338/8.
Last bat Mashrafe Mortaza c Fahim Ashraf b Junaid Khan 1 (10m 8b 0x4 0x6) SR: 12.50
Fall of wicket 338/8 (49.4 ov); Partnership: 7 runs, 1.5 overs, RR: 3.81
Mossaddek Hossain is the latest wicket to fall as he leaves after scoring a 15-ball 26. Bangladesh are 331/7 from 48 overs.
Last bat Mosaddek Hossain c Azhar Ali b Junaid Khan 26 (23m 15b 3x4 1x6) SR: 173.33
Fall of wicket 331/7 (47.5 ov); Partnership: 29 runs, 3.5 overs, RR: 7.56
Shakib is last batsman to get out after a short stay at the crease. He followed Mahmudullah to the pavilion as Bangladesh lost two quick wickets within the space of four balls leaving Bangladesh at 302/6 from 44 overs.
Last bat Shakib Al Hasan c Shadab Khan b Hasan Ali 23 (48m 27b 1x4 0x6) SR: 85.18
Fall of wicket 302/6 (43.6 ov); Partnership: 6 runs, 0.4 overs, RR: 9.00
Mahmudullah is the latest Bangladesh batsman to fall with the score at 296 for five in 43.2 overs.
Last bat Mahmudullah c Shoaib Malik b Hasan Ali 29 (31m 24b 6x4 0x6) SR: 120.83
Fall of wicket 296/5 (43.2 ov); Partnership: 49 runs, 6.3 overs, RR: 7.53
Mushfiqur Rahim became the fourth batsmen to be dismissed during Bangladesh's innings with his side at 247 for 4 in 36.5 overs against Pakistan in the ICC Champions Trophy Warm-up Match played at Edgbaston, Birmingham today.
Another one bites the dust, and this time it is Mushfiqur. He made 46 from 35 balls with three fours and three sixes to his name.
Last bat Mushfiqur Rahim c Shoaib Malik b Junaid Khan 46 (37m 35b 3x4 3x6) SR: 131.42
Fall of wicket 247/4 (36.5 ov); Partnership: 28 runs, 3.4 overs, RR: 7.63
Bangladesh lost their third wicket when Tamim Iqbal was sent back after scoring a magnificent 102 with his team at 219/3 in 33.1 overs.
After a 50-run stand for the third wicket with Mushfiqur Rahim, Tamim Iqbal was dismissed for 102 by Shadab Khan in the 34th over. Tamim was his imperious best today and delighted the scant crowd at Birmingham with nine fours and four sixes to his name.
Last bat Tamim Iqbal c Junaid Khan b Shadab Khan 102 (140m 93b 9x4 4x6) SR: 109.67
Fall of wicket 219/3 (33.1 ov); Partnership: 50 runs, 6.4 overs, RR: 7.50
Imrul Kayes was the second wicket to fall for Bangladesh. He was removed by Shadab Khan after scoring 61. Imrul faced 62 balls and struck eight fours.
Last bat Imrul Kayes lbw b Shadab Khan 61 (91m 62b 8x4 0x6) SR: 98.38
Tamim Iqbal put the Pakistan bowlers to sword as he raced past fifty with Bangladesh at 92 for 1 after 14 overs.
The left-hander was cautious to begin with, but got into his groove after he smashed Junaid Khan for 25 in the ninth over. The second wicket stand between Tamim and Imrul Kayes reached 65 in 7.5 overs when Bangladesh were 92 for 1 after 14 overs. Tamim was batting on 56 from 43 balls.
Bangladesh lost their first wicket when Soumya Sarkar was dismissed for 19 to leave his side at 27 for 1 inside seven overs.
Soumya who began his innings on a positive note scored 19 from 22 balls before he was sent back by Junaid Khan.
Last bat Soumya Sarkar c Babar Azam b Junaid Khan 19 (27m 22b 3x4 0x6) SR: 86.36
Fall of wicket 27/1 (6.1 ov); Partnership: 27 runs, 6.1 overs, RR: 4.37
Earlier, Bangladesh captain Mashrafe Mortaza won the toss and decided to bat first against Pakistan.
It was in April 2015 when the two teams last met in 50-over cricket and Bangladesh simply knocked Pakistan out to whitewash them in the three-match ODI series at Mirpur.
When they meet at Edgbaston today, that memory might not have any relevance considering the fact that they are simply going to play a warm-up match where a team can even field all fifteen members. However, Pakistan captain Sarfraz Ahmed said yesterday during an official press conference ahead of the ICC Champions Trophy that both teams would want to win.
Bangladesh captain Mashrafe Bin Mortaza also stressed the significance of the match, saying it would be an important step to adjusting with the conditions.
"The practice match tomorrow is important. We played in Ireland and the conditions and weather seem totally different after coming here. So we have to adjust through these two [practice] matches so we can be ready before the important matches arrive," said Mashrafe during a press conference yesterday.
The Bangladesh skipper rated his opponents highly, saying they would be one of the contenders for the trophy.
Bangladesh: Mashrafe Mortaza (captain), Imrul Kayes, Mahmudullah, Mehedi Hasan, Mosaddek Hossain, Mushfiqur Rahim, Mustafizur Rahman, Rubel Hossain, Sabbir Rahman, Shafiul Islam, Shakib Al Hasan, Soumya Sarkar, Sunzamul Islam, Tamim Iqbal and Taskin Ahmed.
Pakistan: Sarfraz Ahmed (captain), Ahmed Shehzad, Azhar Ali, Babar Azam, Fahim Ashraf, Fakhar Zaman, Haris Sohail, Hasan Ali, Imad Wasim, Junaid Khan, Mohammad Amir, Mohammad Hafeez, Shadab Khan, Shoaib Malik and Wahab Riaz.
Bangladesh have won the toss and elected to bat first in the Warm-up Match against @TheRealPCB at Birmingham.

Bangladesh Cricket (@BCBtigers) May 27, 2017