Ireland Tri-Nation Series
Tigers' opener washed out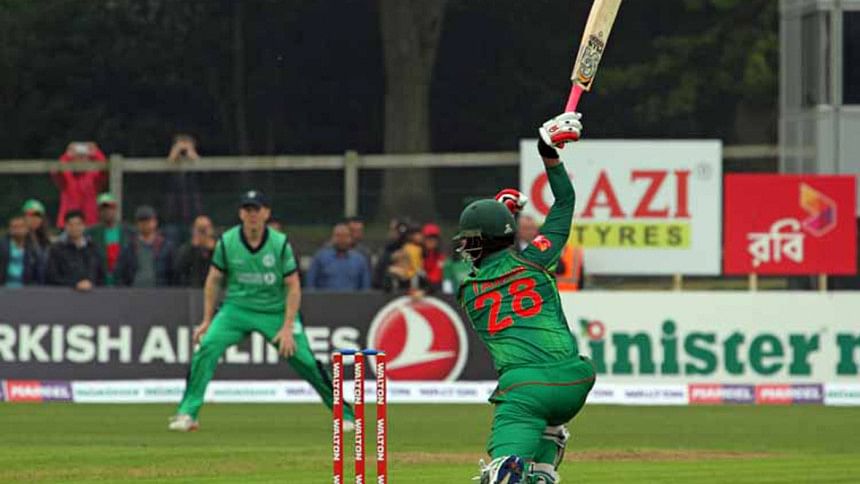 The opening match of the tri-series between Bangladesh and Ireland was washed out due to incessant rainfall after Bangladesh had reached 157 for four in 31.1 overs in Malahide, Dublin today.
The captains went to the hospitality end and shook hands, signalling the end of the match. The teams will share the points.
In the midst of an 87-run fifth-wicket partnership, Tamim Iqbal and Mahmudullah Riyad's progress towards taking Bangladesh to a formidable total was halted when rainfall forced the players to come off the field.
Before that, Tamim reached his fifty off 76 balls with his second boundary of the 26th over. He was batting on 64 off 88 balls with eight fours and Mahmudullah was unbeaten at the other end on a 56-ball 43, which he reached with the help of four boundaries and a six.  
Earlier, Ireland's Peter Chase picked up his third wicket when he sent back Shakib Al Hasan to leave Bangladesh struggling at 70 for 4 inside 15 overs after the home side won the toss and chose to field.
Four, four and out…Shakib falls chasing a wide ball from Chase. The batsman swung at the ball and got a faint edge to the keeper. Poor shot from the all-rounder.
Last bat Shakib Al Hasan c †NJ O'Brien b Chase 14 (16b 2x4 0x6) SR: 87.50
Fall of wicket 70/4 (14.5 ov); Partnership: 23 runs, 3.4 overs, RR: 6.27
Mushfiqur Rahim was the third wicket to fall for Bangladesh when he was dismissed for 13.
Another one bites the dust…and now Mushfiqur returns to the pavilion. The batsman tried to cut the ball towards third man but the ball was too close to him, took the edge of the bat and flew to Wilson at first slip.
Last bat Mushfiqur Rahim c Wilson b McCarthy 13 (17b 3x4 0x6) SR: 76.47
Fall of wicket 47/3 (11.1 ov); Partnership: 38 runs, 7.5 overs, RR: 4.85
Peter Chase gave Ireland their second breakthrough when he sent back Sabbir Rahman to leave Bangladesh in a spot of bother at nine for two in 3.2 overs.
A reckless shot from Sabbir after facing only three balls, and he is brilliantly caught by Tim Murtagh running in from third man. Sabbir threw the kitchen sink at the ball, wanted to smash it on the leg-side but only managed to get an outside edge…another wicket falls for Bangladesh.
Last bat Sabbir Rahman c Murtagh b Chase 0 (3b 0x4 0x6) SR: 0.00
Fall of wicket 9/2 (3.2 ov); Partnership: 1 runs, 1.3 overs, RR: 0.66
Bangladesh lost their first wicket early when Soumya Sarkar was caught behind for 5 with the tourists at 8/1 after 1.5 overs.
Soumya falls to the short-pitch delivery, doesn't move his feet and fends out at the ball, gets an edge and O'Brien takes the catch behind the wicket. Early success for Peter Chase and Ireland!
Chase to Soumya Sarkar, OUT, its another short ball again from Chase, Sarkar doesnt move his feet and fends out at the ball. It takes the edge and O'Brien takes the catch behind the wicket.
Last bat Soumya Sarkar c †NJ O'Brien b Chase 5 (7b 1x4 0x6) SR: 71.42
Fall of wicket 8/1 (1.5 ov); Partnership: 8 runs, 1.5 overs, RR: 4.36
Ireland captain William Porterfield won the toss and decided to field first against Bangladesh.
India-born Simi Singh has been included in the squad based on his impressive numbers for the A side. The all-rounder replaced Andrew MacBrine. Mashrafe will not play today's game as he will be serving out a one-match suspension for a slow over rate picked up during the third ODI against Sri Lanka in Colombo on April 1.