Dhaka Premier Division Cricket League
Gazi Group beat Prime DSC by 35 runs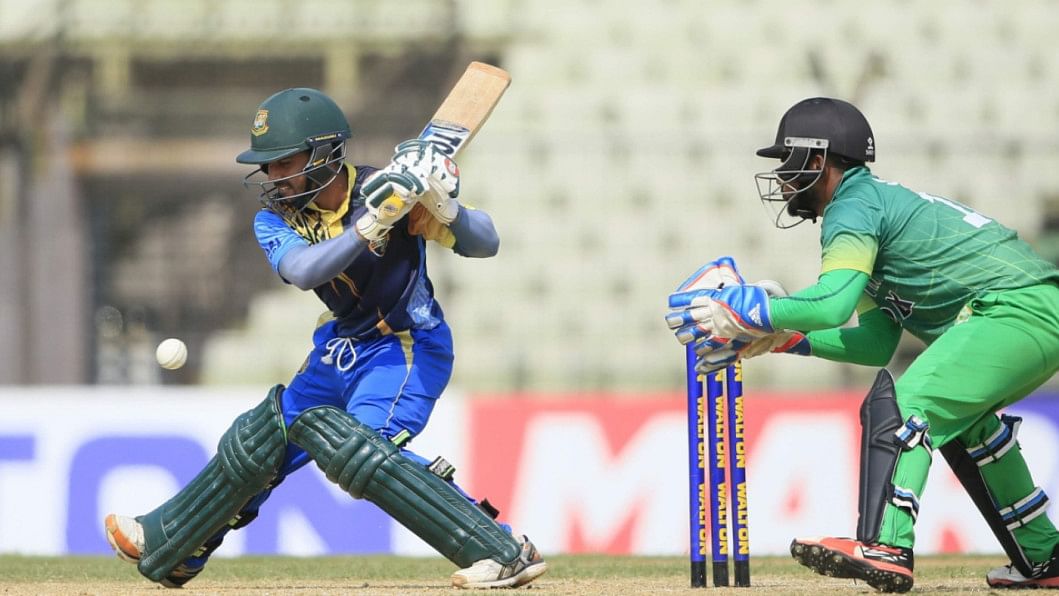 Prime Doleshwar Sporting Club v Gazi Group Cricketers
Gazi Group Cricketers defeated Prime Doleshwar Sporting Club by 35 runs in the Dhaka Premier Division Cricket League match at BKSP's No.3 ground today.
Chasing 308, Prime DSC kept on losing wickets after their 72-run stand for the second wicket, and were tottering at 5-98 inside 21 overs. The sixth wicket partnership of 103 runs in 19.1 overs took Prime DSC close to their target which proved too tall in the end. Samiullah Shenwari top-scored for Prime DSC with 55 from 66 while Jaker Ali contributed with 52 runs.
Nasir Hossain of Gazi Group Cricketers took 3-40 in 10 overs and Shafiul Islam captured two wickets to peg back Prime DSC.
Earlier, a blistering knock of 152 from 120 balls from Mominul Haque took Gazi Group Cricketers to 307.
After Prime DSC captain Farhad Reza won the toss and opted to field first, his bowlers vindicated his decision as they had Gazi Group struggling at 2-9 inside five overs. However, Gazi Group fought back and their third wicket stand of 153 runs in 24.1 overs between Mominul and Nasir Hossain steadied ship and built the platform for a big total. After Nasir's departure, the 4th wicket partnership of 101 runs in 12.4 overs kept the Prime DSC bowlers at bay.
Mominul 's 152 contained 16 fours and six sixes. Nasir chipped in with 64 from 76 while Pervez Rasool smashed 53 from 54 balls. Mehedi Hasan gave the late boost with 22 from 15 balls.
Prime DSC captain Farhad was the most successful bowler for his team, and he took four wickets for 41 runs in nine overs. Delwar Hossain took 3-39 in 9.2 overs.
Score
Gazi Group Cricketers: 307 all out in 48.2 overs
Prime DSC: 272/9 in 50.0 overs
(Mominul 152, Nasir 64, Farhad 4-41)
Result: Gazi Group Cricketers win by 35 runs
Abahani Limited v Sheikh Jamal Dhanmondi Club
Sheikh Jamal Dhanmondi Club came out in front by six wickets against Abahani Limited at Khan Shaheb Osman Ali Stadium, Fatullah today.
Chasing Abahani's 269, Sheikh Jamal reached their target mainly due to the second wicket partnership of 104 runs in 22.1 overs followed by the fourth wicket stand of 102 in 14.1 overs at Fatullah. Ziaur Rahman of Sheikh Jamal hammered 73 from 57 late in the innings to take his team home. His pacy knock contained three fours and six sixes. Fazle Mahmud retired hurt after making 63.
For Abahani, Mohammad Saifuddin, Mosaddek Hossain and Saqlain Sajib captured a wicket each.
Earlier, Sheikh Jamal managed to restrict Abahani to 269 in 50 overs. Abahani enjoyed a solid start after their captain Mahmudullah Riyad won the toss and decided to bat first. After the 59-run stand for the first wicket, Abahani kept losing wickets in regular intervals before the fifth wicket partnership of 42 in 9.2 overs stopped the rot. However, Sheikh Jamal bowlers kept on getting the breakthroughs and finally stopped the Abahani innings at 269.
Liton Das and Mahmudullah both scored 62 each. Liton faced 82 balls while Mahmudullah played 66 balls for his enterprising innings that contained two fours and three sixes.
Tanbir Hayder of Sheikh Jamal took 4-45 in 10 overs to rock Abahani. Shahadat Hossain and Abdur Razzak captured two wickets each.
Score
Abahani Limited: 269 all out in 50.0 overs
Sheikh Jamal: 270/4 in 48.0 overs
(Liton 62, Mahmudullah, 62, Tanbir 4-45)
Result: Sheikh Jamal Dhanmondi Club win by 6 wickets (with 12 balls remaining)
Legends of Rupganj v Kalabagan Krira Chakra
Legends of Rupganj beat Kalabagan Krira Chakra by three wickets at BKSP's No.4 ground today. The match was reduced to 27 overs after a delayed start.
Legends of Rupganj won the toss and opted to field first. Kalabagan managed to score 176 for 8 in 27 overs with Mehrab Hossain jnr scoring 79. For Legends of Rupganj, Mohammad Sharif, Mosharraf Hossain and Mashrafe Mortaza took two wickets each.
Legends of Rupganj reached their target in 26.4 overs. Mushfiqur Rahim helped his team's cause with 44 runs while Mashrafe chipped in with 23 from 18 in the end.
For Kalabagan, Abul Hasan, Muktar Ali and Sanjit Saha captured two wickets each.
Score
Kalabagan Krira Chakra: 176/8 in 27 overs
(Mehrab 79, Hamilton 29, Mosharraf 2-28)
Legends of Rupgang: 178/7 in 26.4/27 overs
Result: Legends of Rupganj win by 3 wickets (with 2 balls remaining)