Work on one road ruining others in Ctg
Chittagong City Corporation's yearlong development work on Port Connecting Road (PC road) is taking its toll on Dhaka Trunk Road (DT road), another major route used by the commuters, leading to its miserable state.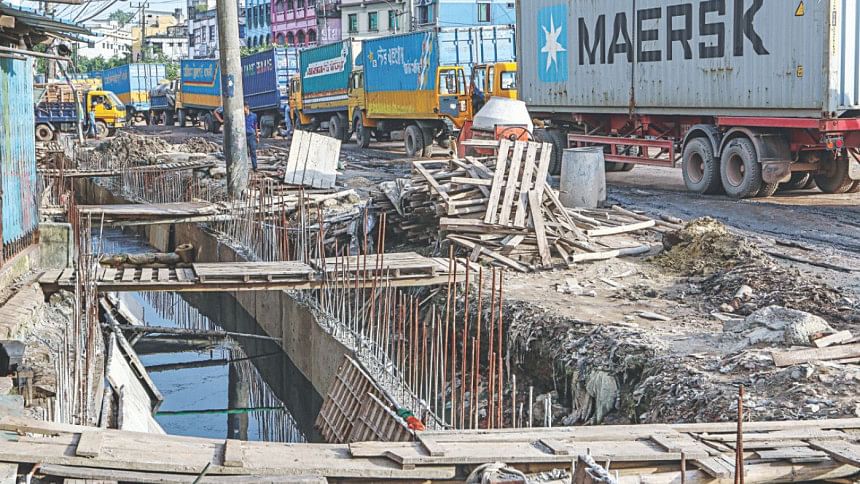 Chittagong City Corporation's yearlong development work on Port Connecting Road (PC road) is taking its toll on Dhaka Trunk Road (DT road), another major route used by the commuters, leading to its miserable state.
According to Chittagong Metropolitan Police (CMP) traffic department, 70 percent of the heavy vehicles which would use PC road earlier are now using the DT road which is causing potholes on the road and the asphalt to become misshapen, resulting in severe traffic congestions during peak hours.
The six kilometre-long PC road was constructed especially for the movement of heavy vehicles like trucks, covered vans and Lorries to and from the Chittagong Port. Due to constant water logging and its battered condition, the Chittagong City Corporation (CCC) initiated renovation and development work on the road last year on November 20.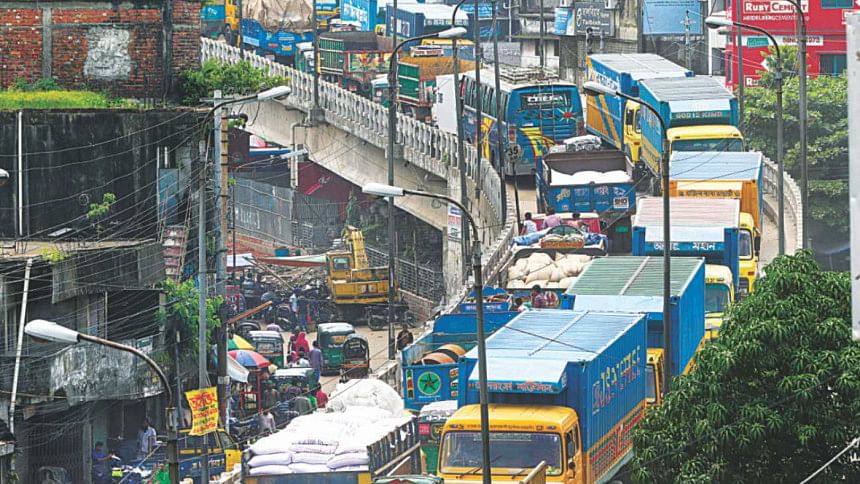 Due to renovation work on PC road, an excessive number of heavy vehicles began using the narrow DT road, causing traffic congestion at peak hours. The road is now in bad shape and has become a major problem for city dwellers, said Kusum Dewan, additional commissioner (AC) of CMP (traffic).
In this regard, Lieutenant Colonel Mohiuddin Ahmed, chief engineer of CCC, said that one side of the PC road is still open for vehicle while development work is going on the other side.
"The open side is wide enough for vehicles to pass through. But makeshift structures set up by vendors have narrowed the road down. If law enforcement authorities had taken necessary action, the condition of traffic would not be like this," he said.
Kusum Dewan however disagreed, saying that the open side, also in need of repair, was being used by vehicles coming from both directions.
"There is no doubt that the pressure on DT road is due to the development work on PC road. We deploy one platoon of police everyday to control traffic on the DT road. If CCC could finish the work faster, such a crisis wouldn't have occurred," said the AC.
Mohiuddin admitted to the deteriorating condition of the road, saying that temporary renovation work is regularly underway.
"As this road was not meant to be used by heavy vehicles, it is normal for it to not withstand this kind of pressure. That's why we are conducting regular renovation work on the road," he said.
Upon a recent visit to the DT road, this correspondent saw piles of bricks stacked into the potholes and carpeting being done over them.
About this, the CCC engineer said the bricks had to be stacked as a base under the carpeting and was temporary.
"Since vehicles are on the move all day long on this road, we have to go with temporary procedures. For permanent renovation work, we need to shut the road down, which is not possible now," he added.
He also said that the CCC hopes to begin the necessary renovation work on DT road after the work on PC road is completed by December this year.
However, the sufferings of the commuters are nowhere near its end.
"It is a nightmare if you go out on this road. Reaching anywhere on time is a sheer impossibility. A half-hour long journey on this road takes almost two hours," said Tanvir Zakaria Chowdhury, a dweller at Dewanhat area in the city.    
Adding to this, the 560 metre-long overpass at Dewanhat junction of DT road, which was constructed by Chittagong Development Authority (CDA) at the cost of Tk 3000 lakh, is also in terrible condition with large potholes created on it and the ramps on both sides battered.
Hundreds of inter district buses, trucks and covered vans use this overpass at night, creating traffic congestion even in the darker hours.
Abdus Salam, chairman of CDA, said that the Dewanghat junction overpass has the capacity of sustaining 50 tonnes of pressure while vehicles are on the move.
"Constant and long term halt on the overpass has affected the carpeting and the ramps at both sides. It was not meant to hold the vehicles on it," said Salam.
 "Although this will not cause any permanent damage to the overpass as the carpeting and the layer on the ramps can be treated, the public suffering, however, is the most important thing to be dealt with right now," he said.