Change Maker
Women at helm of Kishoreganj haors
8 of 13 UNOs in the district are women striving to improve quality of life there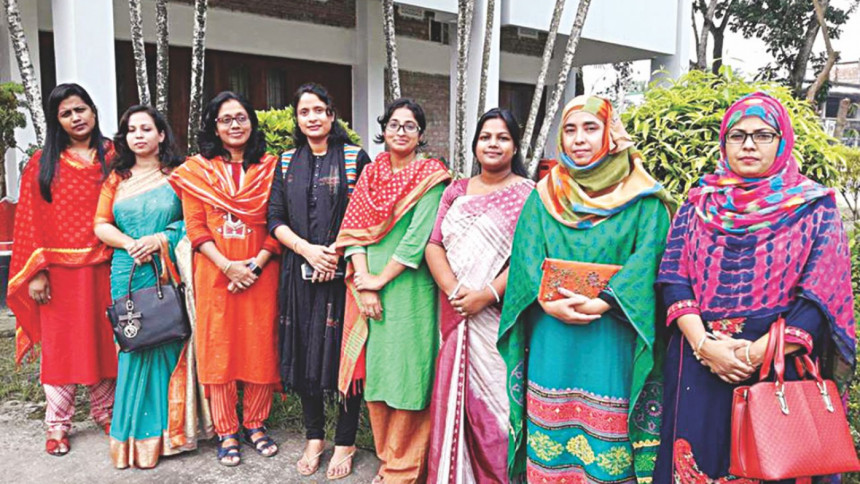 The job of an upazila nirabhi officer at the remotest haors of Kishoreganj is not for the faint of heart.
The quality of life of the people of the haor areas is being improved with the dedication and patience of the 13 UNOs of the district, eight of whom are women.
Dilruba Ahmed, who joined as the UNO of Bhairab in 2016, said she receives spontaneous support from the public representatives and common people.
"There are a lot of opportunities here to interact with people and have a positive impact on their lives," said Dilruba, who joined cadre services in 2008 after completing her honours and masters in geography and environmental science from Dhaka University.
One of her first accomplishments was to fill the village police vacancies, which enabled her to form a network. "I ensured that they got bicycles and mobile phones for better access to the grassroots."
Shibpur, one of the seven unions in Bhairab, has been declared free of early marriages. "One of my main duties is to maintain this with the help of local police."
The mother of two has overseen the preparation of a database of 496 families in the union, and supports them in agriculture, fish farming, livestock or training programmes for the youth according to their needs through the concerned departments.
Among her noted achivements was the construction of a dam on Jwanshi Haor. To the joy of farmers, flash floods across Bangladesh earlier this year did not destroy the Boro crops of some 20,000 farmers of three unions -- Sreenagar, Sadhakpur and Aganagar.
Monju Mia, a farmer of Jafarnagar village, said the dam helped save their Boro crops from flood waters in April. "We got encouragement from the UNO of Bhairab. She is the first UNO to visit this area. She visited twice this year."
Urme Binte Salam is the UNO of Kuliarchar upazila and the recipient of the best UNO of Dhaka and Mymensingh divisions award this year for standard primary education.
The quality of education and attendance are the two main elements to achieving this, said Urme, who completed her honours and masters in English from Dhaka University in 2005 and joined the service in 2006. She also got a PhD from Malaysia later.
The UNO provided bicycles to 300 meritorious students so that they can commute to school easily. She also organised Science and ICT practical classes for students from fifth to seventh grades. The classes were participated by some 3,200 students of the upazila in January.
Taslima Ahmed Poly, the first female UNO in Kishoreganj upazila, is reputed for her services towards people in the remotest of areas.
Upon completing her masters from Bangladesh Agricultural University (BAU) in Mymensingh, Taslima joined cadre services in 2010.
The people of the haor suffer mostly for poor communication, and surprisingly, it is better during monsoon as they can use boats to go from one union to the next, said the only female employee at the upazila office.
When the rains subside, commuting becomes next to impossible in some upazilas, as the roads are muddy.
There is a dearth of playing grounds for children though authorities distribute sports equipment to the schools in the upazila.
"The conditions are extreme, but I still visit the unions using row and speed boats for my work," she said.
Sultana Akter, UNO of Tarail, acquired masters in Public Policy from the United Kingdom and joined the service in 2008.
"Although I grew up in Dhaka and studied abroad, I was mentally prepared to work for rural Bangladesh. The people of these upazilas still view the UNOs as the solver of all problems and they come to me with their personal and social problems. I try to find remedies with the support of departments concerned," said Sultana.
Both men and women here feel more comfortable speaking to a woman about their issues as they crave empathy and understanding, she added.
Annapurna Debnath, UNO of Pakundia, is a change maker.
Out of some 150 families at Shailajani village of Chandipasha union, one or two members each from 30 families have been trained in some form of handicraft to make a living. Many more will be brought under the initiative by December, said the UNO.
There are some 194 primary schools in the upazila and all the schools will be brought under a mid-day meal programme by December, said Annapurna, who did her honours and masters from BAU. She will be the first to introduce this government programme in the upazila.
Mohammad Alauddin, a sharecropper of Khama village in Agarsindhur union, said the UNO arranged Tk 10,000 from the upazila administration for his daughter's admission into Rangamati Medical College. "She has given my daughter an opportunity to pursue her dreams."
Annapurna approached Jangalia Union Parishad Chairman Sarder Shamim Ahmed to distribute uniforms for some 120 students of local primary school Pathkoli Shishu Kallanyan Bidhalaya.
Shohana Nasrin, Israt Jahan Keya and Mahmuda have joined as UNOs in three upazilas of the district this year.
Shohana completed her education from BAU, Keya from Jagannath University and Mahmuda from Eden College in Dhaka. 
They enjoy life in the remote haor areas with their families and are rewarded with immense job satisfaction by helping the vulnerable people. Their biggest asset is the support from their families, they added.
Zillur Rahman, chairman of Kishoreganj Zila Parishad, said there are no allegations against these UNOs as they work with perseverance.