Female freedom fighter's statue 'given male shape' in Kishoreganj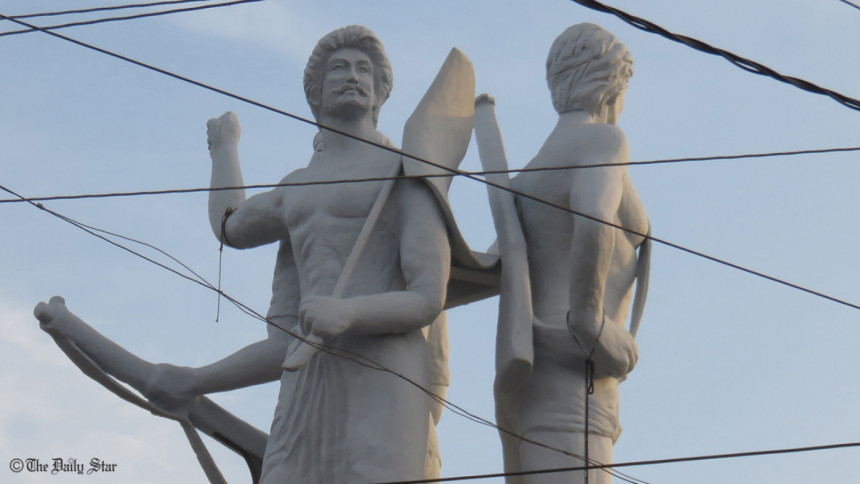 An under construction statue of a female freedom fighter has been given shape of a male figure in Tarail upazila of Kishoreganj due to alleged influence of ruling party men.
The 37-feet-high sculpture, situated on the premises of Tarail Upazila Parishad, was supposed to consist of statues of two male freedom fighters holding firearms and one female freedom fighter holding the national flag, and a 30-feet-wide base with murals of Bangabandhu Sheikh Mujibur Rahman and the seven Bir Shresthas, reports our Kishoreganj correspondent.
However, as the work of the sculpture is almost coming to an end, the female statue is being given a male shape by adding moustache to it.
The installation of the sculpture began in 2016, funded by the Zila Parishad with an initial cost of Tk 30 lakh.
Its sculptor Sushen Acharya told The Daily Star that local Awami League leaders and other influential people advised him to alter the female statue to a male form at the last stage of the construction work.
However, President of Tarail Upazila unit of Awami League Md Azizul Haque said the female statue is facing a mosque and madrasa only 150 feet away, where janaza of deceased are often held.
Local influential people had complained about the female statue and hence the sculptor was advised to shift the statue's face in the opposite direction, he added.
Former commander of Kishoreganj district unit of Muktijoddha Sangsad Md Asad Ullah expressed discontent over the issue and called upon the authorities concerned to construct the statue as per the original design.
Contacted, Senior Assistant Engineer ASM Lutfor Rahman of Kishoreganj Zila Parishad said the sculptor did not take any permission to make alteration to the statue and they were not aware of this either, adding that they would take steps in this regard.
Meanwhile, Kishoreganj unit of Bangladesh Mahila Parishad (BMP), a national non-political and voluntary women's organisation, today held a press briefing protesting against the decision.