Where there's a will
University student funds study through farm labour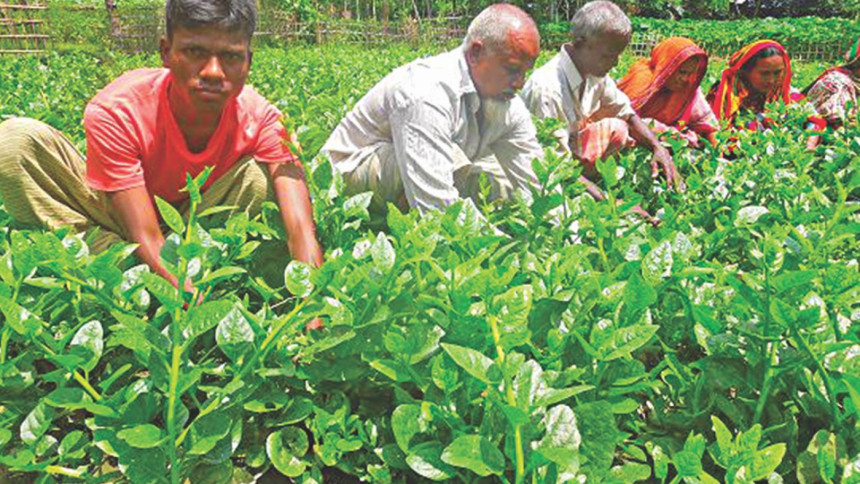 When he's in the field labouring as a farmhand, Abdul Mazid from Songolshi Kachari village in Nilphamari sadar upazila hardly stands out from the crowd. But the 19-year-old is ambitious. Enthusiastic about education since his boyhood, the youngest of four siblings is an unlikely first-year student of clinical psychology at Rajshahi University. Through day labour during university holidays, Mazid funds his study.
"Mazid always had a thirst for knowledge," remarks his father Babul Islam, 60, a part-time worker in a ceramics factory. "As a child, whenever he used to find a piece of paper lying on the ground he'd pick it up and try to read it. I enrolled him in primary school, but only so he could learn basic literacy and maintain our household accounts."
"He always liked reading," says Mazid's mother Monwara Begum, 50. "My elder daughter used to collect old books for him from her employer's house, when she worked as a domestic help."
Being enrolled in primary school, Mazid didn't need a second invitation.
In recognition of his enthusiasm, good results and personal background, Sonarai-Songolshi High School and College Principal Md Baharuddin permitted Mazid to complete his secondary studies free of cost. In 2014, Mazid secured a GPA 5 in science in his Secondary School Certificate; subsequently he completed his Higher School Certificate with a GPA 3.92 at the same institution.
With financial assistance and moral support from his schoolteacher Shobnam Aktar, Mazid secured university admission last year.
To move to Rajshahi was a big change. "The city was buzzing with life and new experience and at first I felt helpless," Mazid recalls. "Some of the other students from wealthier backgrounds kept their distance; but I relaxed a lot when I understood that most students are friendly."
A bigger challenge was money. "I can hardly feed the family," admits Mazid's father. "There was no way to bear his education costs."
Thus Mazid took to the field. "I have to pay Tk 800 per month for hostel accommodation and Tk 1,500 for meals. As a labourer I can earn Tk 300 per day."
Ironically, just as some of his classmates had trouble accepting Mazid, his fellow labourers were also reluctant to work alongside a university student.
"It didn't seem right for Mazid to be working in the field," says fellow labourer Mazid Hafiz, 35. "But considering his determination to be educated at any cost, we took him with us."
Now, many labourer colleagues have high hopes for Mazid. "We want to see him as an accomplished man who can bring knowledge back to the village," says Ayamena Banu, 30, as she picks out weeds from a vegetable field.
As for Mazid, he doesn't regret his physical toil. "I don't feel shy about it," he says, "I can't deny my family roots and I want to set an example for children from other struggling families that higher education isn't beyond reach."
His mother meanwhile is astounded. "To think he used to go to school in the second-hand clothes of rich people's children! That Mazid studies at university is beyond our wildest dreams. It's as if the moon in the sky has come down to greet us at our cottage door!"
As for the future, Mazid says that after graduation, along with some fellow students he hopes to establish a clinic to treat mental illness patients, especially those from poor backgrounds.
"If any big-hearted solvent individual came to Mazid's assistance," remarks principal Md Baharuddin, "it would be easier for him to reach his goal."