War crimes convict held in Kishoreganj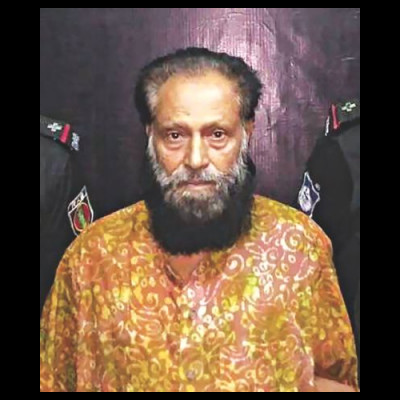 Law enforcers arrested a convicted war criminal in Kishoreganj yesterday, 15 months after a special tribunal handed death penalty to him and three others for committing war crimes during the Liberation War.
Hafiz Uddin, 67, of Karimganj upazila in the district, was held in Itna Upazila around 2:00pm, Rezia Sultana Chaman, a prosecutor at the International Crimes Tribunal, told The Daily Star.
Hasan Mustafa Swapan, commanding officer of Rab-14, said acting on a tip-off, a Rab team arrested Hafiz Uddin from one of his relative's house at Borshikura village in remote haor area.
 The ICT-1 on May 3 last year found five Kishoreganj razakars guilty of abduction, torture and killings during the Liberation War and handed down death sentences to four of them, including Hafiz, and jail until death to the other.
 Hafiz Uddin had been absconding since the tribunal issued an arrest warrant for him and the four others in November 2014. He was tried in absentia as he did not appear before the tribunal even after publication of advertisements asking him to do so.
The three others sentenced to death were Gazi Abdul Mannan, 88, commander of a local Razakar camp, Nasiruddin Ahmed, 62, an army captain who was sent to forced retirement and his brother Shamsuddin Ahmed, 60.
Of them, Shamsuddin Ahmed has been in jail since November 2014 and has filed an appeal against the verdict. Abdul Mannan died in December last year while on the run.
Azharul Islam, 60, of the same upazila, was sentenced to jail until death.
With Hafiz's arrest, 21 convicted war criminals remain absconding since being found guilty of crimes committed in 1971.