Vacation ends in disaster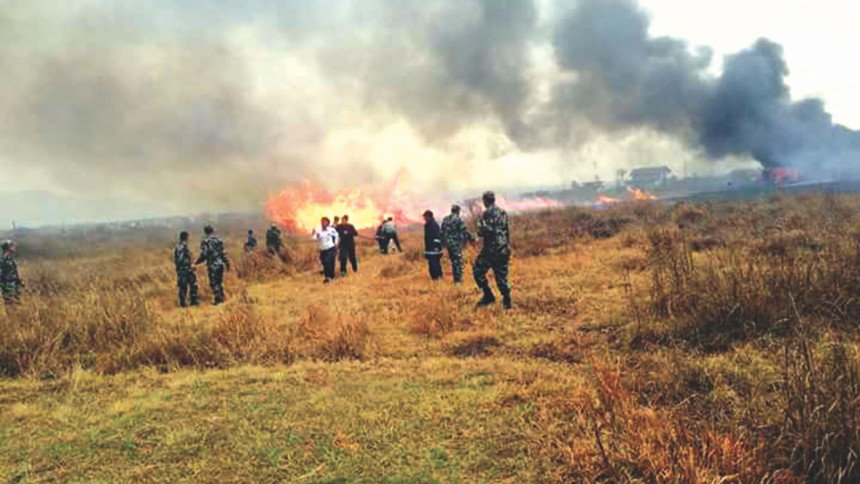 Eleven out of 13 Nepali students of a Sylhet medical college who were on board the ill-fated aircraft that crashed in Kathmandu are reported to have died, according to sources in Nepal and Bangladesh.
All from 19th batch of Jalalabad Ragib-Rabeya Medical College, they left for home on a month-long vacation after their MBBS final exam ended on March 10, said Professor Abed Hossain, principal of the institution.
The students are Sanjay Poudel, Sanjaya Maharjan, Neega Maharjan, Anjila Shrestha, Purnima Lohani, Shweta Thapa, Meeli Maharjan, Saruna Shrestha, Algina Baral, Charu Baral, Samira Byanjankar, Ashna Shakya and Princy Dhami, said the sources.
The Daily Star received a list of survivors from Nepal that shows all of them, except Samira Byanjankar and Princy Dhami, died in the accident. The two girls were admitted to the intensive care unit of a local hospital. 
Shubhas Acharya, another Nepali student of the medical college, said he was also supposed to board the US-Bangla flight but could not confirm his ticket in on time.
While visiting a dormitory of the college, our Sylhet correspondent met four Nepali students -- in distress and trying to contact their families. All of them were planning to fly to Nepal to spend the vacation.
The college announced three days of mourning from today.