US-Bangla Crash: Communication inconsistencies found in probe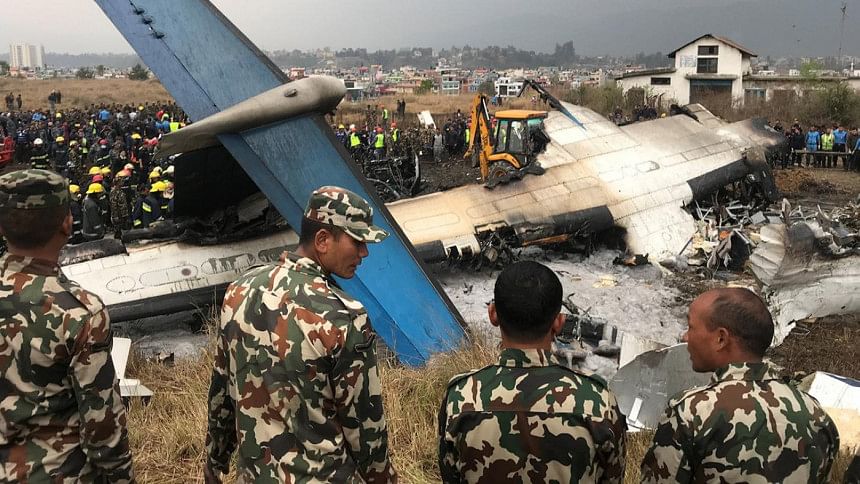 The committee probing the US-Bangla plane crash found that there were communication inconsistencies between the pilot and the Air Traffic Control at Tribhuvan International Airport for a few moments.
"The aircraft [pilot] was saying something, but, may be due to overlapping disturbances, the control tower did not respond," said Capt Salahuddin M Rahmatullah, member of the probe body, while briefing journalists on the preliminary investigation report.
 He said at the last moment, the captain and the ATC could communicate, but for just a few moments, what they wanted to say could not be transmitted. It could have happened due to overlapping messages from other planes.
"Two-way communication between the aircraft and the approach as well as tower control was normal until 14:17:58 local time. Thereafter, a few transmissions were made by both ATC and the pilot until 14:18:45, but no corresponding replies or acknowledgements were made from either side," the report mentioned. So, there was no response for 47 seconds.
"But I cannot say for sure right now whether the towers responded or not until we analyse the Cockpit Voice Recorder (CVR)," he said.
"Corresponding answers from both the sides were missing for a short time in the recorder at the ATC," he said.
Salahuddin, head of Aircraft Accident Investigation Group of Bangladesh, said as the International Civil Aviation Organisation was obliged to complete preliminary investigation within one month of the accident.
He officially disclosed the findings of the primary investigation at a press conference at the office of the Civil Aviation Authority of Bangladesh yesterday afternoon.
Fifty-one people, including 28 Bangladeshis, were killed when an aircraft of US-Bangla from Dhaka crashed at the Tribhuvan International Airport in Kathmandu on March 12.
He said the aircraft had its airworthiness certificate and meteorological data at the airport was good. The airport's navigation system was fine.
Replying to another query, he said they were yet to ascertain whether captain Abid Sultan or co-pilot Prithula Rashid was landing the plane.
The probe committee member said they found confusion over landing clearance on runway 02 and runway 20.
He, however, said but moments later, the ATC rectified the error.
"The pilot had approached the runway he intended," Salahuddin added.
He also said captain Abid and co-pilot Prithula flew as per the worldwide duty time limitations. "They flew within the law."
Salahuddin also said all equipment, including black box, had been dispatched to the Transportation Safety Board of Canada for retrieving data and a slot had already been fixed between April 23 and May 5 for this.