UPDF leader shot dead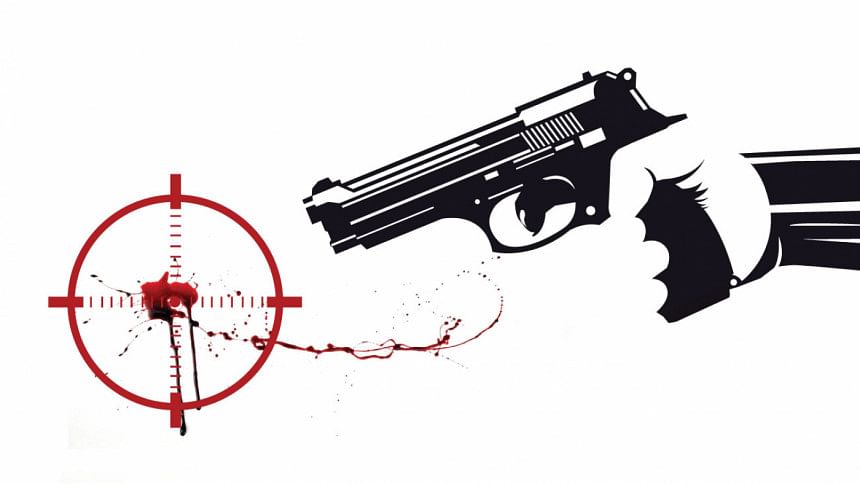 In the third such killing in one month, United People's Democratic Front (UPDF) leader Mithun Chakma was shot dead in Khagrachhari's Sluice Gate area yesterday.
His party blamed the operatives of newly formed UPDF (Democratic) for the murder.
Mithun, also a former president of Greater Chittagong Hill Tracts Hill Students Council, was returning home from Khagrachhari District Court. As he got near his home in Aparna Choudhury Para, some men on two motorcycles and a battery-run rickshaw abducted him. They took him to the district town and shot him around noon, said the victim's brother Bagish Chakma.
After hearing of the incident, the police rushed to the scene and sent Mithun to a hospital, where doctors declared him dead.
In a statement, UPDF Central General Secretary Ravi Shankar Chakma blamed the UPDF (Democratic) for the killing. He said the "Mukhosh Bahini" in Khagrachhari killed Mithun. He praised Mithun's courageous role in the anti-land grab movement in Chittagong Hill Tracts during the emergency.
After the assassination of Mithun, panic gripped Khagrachhari town.
In the afternoon, UDPDF's associate organisation Democratic Youth Forum, Pahari Chhatra Parishad and Hill Women's Federation brought out a procession in Khagrachhari town. The procession demanded immediate arrest of the killers.
Meanwhile, The Daily Star tried to contact UPDF (Democratic) convenor Tapan Kanti Chakma, but his mobile phone was found switched off.
The police are still investigating the murder; a case is yet to be filed.
Earlier, on December 16, Anol Bikash Chakma alias Pluto Chakma, 42, a resident of Kawkhali upazila in Rangamati and a leader of Bandukbhanga union UPDF was shot dead. Another UPDF leader, Anoti Ranjan Chakma, was shot dead in Bogachhori area of Naniarchar upazila in Rangamati on December 5.