Two 'drug peddlers' die in Ramu 'gunfight'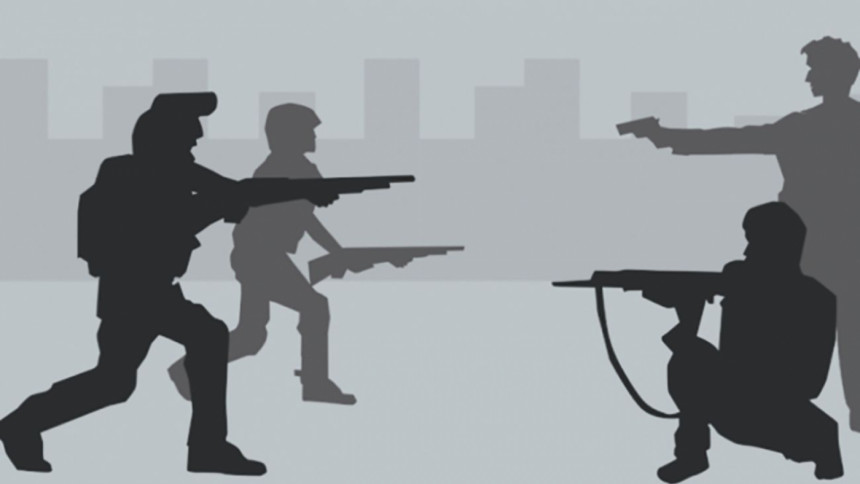 Two alleged drug peddlers were killed in a "gunfight" with a joint team of Rapid Action Battalion and Border Guard Bangladesh in Cox's Bazar's Ramu upazila early yesterday.
The victims are Enamul Haque, 33, and Forhad Hossain Arif, 32, of Chandpur's Kachua upazila, said Mizanur Rahman, inspector (investigation) of Ramu Police Station.
Maj Mehedi Hassan, company commander of Cox's Bazar Rab camp, told reporters that the incident happened at Himchhari on Cox's Bazar-Teknaf Marine Drive road around 4:00am. A checkpoint was set up there to search vehicles.
The two were heading for Cox's Bazar in a car. When the law enforcers signalled them to stop and went to search the vehicle, the "drug peddlers" opened fire. The law enforcers retaliated, triggering the "gunfight", he added.
After the "shootout", the joint team found the two bullet-wounded inside the car.
They were rushed to Cox's Bazar Sadar Hospital where doctors declared them dead, he said, adding that their bodies were kept in the hospital morgue for autopsies.
The law enforcers also claimed to have recovered huge amount of yaba pills, one foreign pistol, a homemade gun and bullets from the car.
With the two, at least 188 suspected drug peddlers were killed since the anti-narcotics drive began on May 4. Most of them were killed in "shootouts" involving police and Rab.
In another incident in the capital, Rab members picked up over 100 people during a two-hour anti-narcotics drive at Mohammadpur's Geneva Camp. The raid began around 4:30am yesterday.
Cases were filed against 32 of the detainees under the Narcotics Control Act, while a mobile court jailed five others for six months to one year. The rest were freed as their involvement in drug peddling was not found, said Rabiul Islam, operation officer of Rab-2.